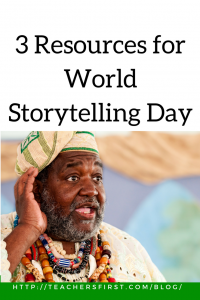 Do you know someone who is a great storyteller? Have you ever thought about what makes a great storyteller? I have because I am not one of those people with a gift for engaging others through storytelling and have always admired those that can capture an audience through their use of language.
I recently learned about World Storytelling Day an event observed each year to celebrate the art of storytelling. After viewing the description of this event, it helped me to understand that storytelling is indeed an art form that combines visual, oral, and physical elements to relate a tale to an audience.
One way to understand the art form of storytelling better is to recognize common features found among great storytellers. This article by Corey Wainwright features 10 of the world's best modern storytellers. Included in this list are comedians, songwriters, and even non-profit organizations.
Although we may not all be naturally gifted storytellers, there are many resources for learning more about this art form and developing skills for sharing our narrative through our personal style.
The Art of Storytelling by Pixar

– Pixar Studios are well known for their storytelling skills through the medium of animated films. These activities, produced in conjunction with Khan Academy, guide participants through lessons sharing their use of human interest and emotions to tell stories. You and your students may find the video that shares advice from Pixar's storytellers on how to develop storytelling skills especially useful.

Share videos from this site with students then ask them to complete the activities by sharing their answers through video storytelling

Have students vote on a favorite storyteller found in your school or community and ask them to come in and share their ideas on what makes a great storyteller.

The Listening Doll

– This site for elementary students contains a lesson on learning about storytelling through Native American storytelling dolls. As part of the experience, students create a listening doll using clay and simple craft items.

After completing the lesson, include your storytelling dolls in classroom discussions throughout the year. Use the dolls as a reminder of essential features of being a good listener and as a prop for practicing storytelling skills.

Have students create audio recordings of their stories at the beginning of the year, then again throughout the year as you discuss elements of what makes a good storyteller.

TeachersFirst Digital Storytelling Resources

– this collection of our editors' choices of the best digital storytelling tools includes resources for creating stories and archives of webinars sharing ideas for using digital storytelling as a formative assessment.

Bookmark this link to find a wide variety of digital tools for students of all ages. Consider viewing the archived OK2Ask sessions to learn more about how to incorporate digital storytelling into your classroom.

Choose something new from the list that you haven't tried before. Consider asking students to create animated movies to tell a story or perhaps use a comic creator tool to share stories and ideas across the curriculum.
There will always be some people that have a natural gift for storytelling; however, we all have stories to tell. Take advantage of the many tools available to practice and develop storytelling skills in all students.
Do you have a favorite storytelling tool? We would love for you to share your story on how it has helped you or your students in the comments below.