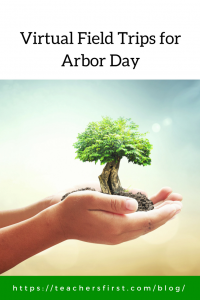 National Arbor Day is celebrated the last Friday in April each year. Local Arbor Day celebrations differ by state; many states observe this holiday at the best time for planting trees in their part of the country. For example, Maine observes the holiday on the third full week of May while South Carolina's observation is the first Friday in December.
Typical classroom celebrations revolve around trees and plant life found just outside classroom windows. Arbor Day is the perfect time to take students outside to observe different trees preparing to leaf out for the summer, view early flower buds, and enjoy the world coming back to life after winter's chill.
In addition to observations within your local community, you may want to take advantage of Arbor Day as a time to participate in virtual field trips to forests around the world. Students delight in learning about places that are different from their community, and virtual field trips allow us to see first-hand the differences found in varying locations and forest habitats.
A quick Google search finds many different virtual field trips. Here are a few to get you started:
After taking your virtual forest tours, consider having students create their own virtual journeys:
Arbor Day is a celebration and recognition of the value of trees to our health and well-being. Why not take advantage of this opportunity to discover the beauty and benefits of trees around the world through virtual field trips?
How do you celebrate Arbor Day? We love hearing from our readers in the comments.