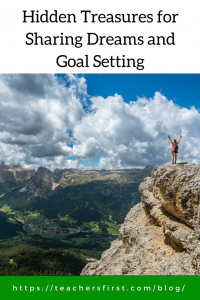 On August 28, 1963, Martin Luther King's historic I Have a Dream speech in Washington, DC was crucial in bringing nation-wide attention to civil rights issues. His dream of equal rights for children and adults of all colors continues to inspire people around the world in their goal of peaceful coexistence of all people.
It is easy to do a quick Google search to find teaching resources related to this speech, but it takes a lot of time to sort through all of the responses and choose what you need. Instead, I'd like to share some of the many resources already available right here at TeachersFirst that save you a lot of time and frustration. In fact, these are some of the many free items found on the site that are part of what we call our "Hidden Treasures."
Researchers have documented the importance of setting goals and working toward achieving dreams. This Harvard study discusses the importance of goal setting in education. In their findings, the authors outline the direct correlation of goal setting to achievement and motivation. They also take a look at goal setting by educators as an essential tool in guiding learning through sound pedagogical thinking.
It is still very early in the school year for most of us, in fact, some schools may not have started yet. Consider using Martin Luther King, Jr.'s speech and these resources as inspiration for setting goals and dreams for you and your students for the upcoming school year.