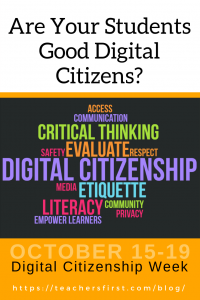 Digital Citizenship week is October 15th-19th this year. What does it mean to be a good digital citizen? Good digital citizens when online think critically, weigh the risks of sharing information, evaluate sources, treat others with respect, and monitor the use of their time. You can empower your students to be good digital citizens!
Most students aren't just naturally good digital citizens. They need guidance and support to acquire those skills as with any other subject. Take advantage of Digital Citizenship Week to offer your students some activities to help them take control of their online lives!
Whether you plan to implement a whole curriculum or implement a few one-time lessons, there are lots of resources available to you. TeachersFirst offers many digital citizenship resources like the Digital Citizenship Resources page, an archived OK2Ask session entitled Fostering Responsible Digital Citizenship (the session will launch in Adobe Connect), and archived twitter chats like Promoting Digital Citizenship.
Start off by exploring some digital citizenship resources for teachers. ISTE's digital citizenship page provides articles like this post entitled "It's Time to Commit to Digital Citizenship" and an excellent infographic resource for use with students. The Global Digital Citizen Foundation furnishes teachers with a variety of resources committed to cultivating global digital citizens. Read Edudemic's Teachers Guide to Digital Citizenship for a list of topics students should learn about. Find some videos to share from the Teaching Channel's (TeachersFirst review) Digital Citizens Playlist.
For older students, BrainPOP offers a free digital citizenship subscription to teachers with videos, quizzes, games, and activities. Sign up here. Google's Be Internet Awesome (TeachersFirst review) offers an entire curriculum which includes lessons, a pledge, and games that engage students as they learn. For younger students, PBSkids offers videos and activities with Ruff Ruffman Humble Media Genius (TeachersFirst review).  AT&T's Safety Land (TeachersFirst review) is an entertaining game that teaches students to recognize danger on the internet. StaySafeOnline (TeachersFirst review) offers parents resources like the Raising Digital Citizens materials from the National Cybersecurity Alliance. Learn about implementing Parent Digital Citizenship Academies from CommonSense.org.
Whether you start small or go big with your digital citizenship endeavors, make it a goal to start during Digital Citizenship Week this year! Your students and their families will thank you.