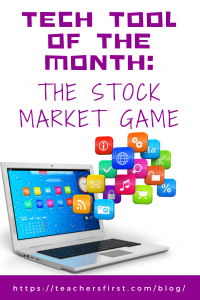 What is more motivating than money? This month's tech tool focuses on a tool that allows students to take control of the cash! Why did we choose a financial literacy tool this month? October 24-29, 1929 was the devastating and well-known Stock Market Crash of 1929. Help your students to visualize the true loss of those several days, while you also teach them lifelong financial literacy skills.
The Stock Market Game (TeachersFirst review) is an online simulation for grades 4-12 to learn about investing, economics, personal finance, and financial literacy. The neat part of this site is that it is a competition for teams to compete around the world. The Stock Market Game is a program offered by the Securities Industry and Financial Markets Assoc. (SIFMA Foundation), an independent 501(c)3 educational organization. The tool is available on the web or as an app for both Android or iOs devices. That means it is accessible on ANY device! This tool has helped over 16 million students (and counting) to understand economics and better prepare for their financial futures.
In this simulation, students are given $100,000 (virtual cash) and asked to decide how to spend it. Would they save some in the bank? Would they spend it on a new car or other gadgets? Through this program, they will learn how they can take their $100,000 and invest it, so the money has the possibility to grow. Although this activity can be done independently, the program was created as a collaboration activity to help promote 21st Century learning skills. Use this tool to help to develop teamwork, collaboration, and problem-solving skills.
If you are a teacher, be sure to visit the Teacher Support Center. There you will find lesson plans, assessments, curriculum resources and activities, and standards information for Common Core, STEM, and the Partnership for 21st Century Skills. Before students can use this program, you must register your class. Then you will have access to even more help and information. This tool could also be used by homeschooling families or as an after-school club.
The Stock Market Game has been proven to increase student engagement, school attendance, and class participation. The competition and fundamental understanding of investing give this a real-world feel for students. No student will ever ask you "when will I use this skill in the real world." Most importantly, this tool teaches students how to be wise investors and savers, plus empowers students with financial knowledge for their futures.