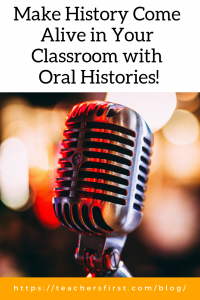 The National Day of Listening is unofficially celebrated on November 24th. It was started in 2008 by StoryCorps whose mission is "to preserve and share humanity's stories in order to build connections between people and create a more just and compassionate world."  The National Day of Listening was created to encourage people to interview a loved one, friend, or member of their community and share the interview with the world.  How can you celebrate the spirit of this holiday in your classroom? Read on to find out!
Oral histories can be a powerful learning tool. They can be used in a variety of ways in the classroom. Many organizations offer resources for listening to, analyzing, and producing oral histories in your classroom.
The Library of Congress offers resources on all three! Students can peruse their oral history collections.  The topics range from Slavery to Occupations to a variety of place-based collections. Their primary source analysis tool can be used by students to analyze the oral histories. Teachers can guide the analysis using the teacher's guide. Once students are comfortable with oral histories, they can begin creating their own. The Library of Congress also offers this lesson plan for grades 6-12 centered around Oral and Social History as well as this general guide for conducting oral history interviews.
A variety of oral history collections are available for classroom use on many topics. The Ellis Island Oral History Collection offers oral histories that are "first-hand recollections of immigrants who passed through the Ellis Island immigration station between 1892 and 1954 and the employees who worked there".  The Densho digital archives provide oral histories from the Japanese American incarceration during WWII. The Pocumtuck Valley Memorial Association furnishes an assortment of oral histories around 20th-century history.
In addition to the Library of Congress' primary source analysis tool, the National Archives offers oral history analysis tools for various grades ( elementary, middle/high school ) or their original form.  The Smithsonian Institute provides an oral history analysis form in their guide to engaging students with primary sources along with a variety of resources for using oral histories in the classroom.
Implementing an oral history project in the classroom can seem to be a daunting task. There are many resources available to assist in your planning and implementation. The TeachersFirst Mining the Riches of History resource page is a great place to start! This classroom guide provides principles and best practices for oral history in grades 4-12. For inspiration, the Tell Me Your Stories curriculum guide offers a variety of sample projects. This oral history article provides numerous suggestions for lesson plans for grades K-8 as well as tips for differentiated instruction and assessment.
Enjoy bringing the spirit of National Day of Listening into your classroom with these resources! You can make history come alive for your students using oral histories as well as encouraging them to make their own historical works for use by future historians.