What better way to teach about Thanksgiving than with primary sources?! And, what can be more fun and a way to incorporate student voice than to teach students how to create their own primary sources documenting Thanksgiving in some way.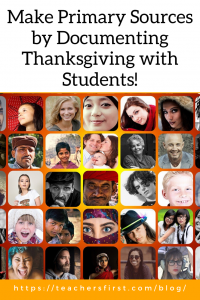 One way to document Thanksgiving is to participate in The Great Thanksgiving Listen.  The Great Thanksgiving Listen is a " national movement that empowers young people—and people of all ages—to create an oral history of the contemporary United States by recording an interview with an elder, mentor, friend, or someone they admire using the free StoryCorps App.". Thousands of students from all 50 states have participated in this event in the past, documenting more than 100,000 interviews. In addition to lesson plans and handouts, StoryCorps provides a teacher toolkit and a placemat for use on the Thanksgiving dinner table with useful interview starters. PBS and NAIS provide lesson plans and tips on participation.  If you do not have a device on which to download the StoryCorps app, there are other tools to use in the classroom.
Scrapbookers have lots of great ideas about documenting Thanksgiving!  Taking pictures and journaling about them digitally or in a scrapbook are some of the easiest and fun ways to document Thanksgiving. Thinglink is an excellent tool for doing this in the classroom. Check out this Oceanspray interactive Thanksgiving infographic made using Thinglink.
Making a video is another option. Assigning a Thanksgiving video idea from Animoto or using Flipgrid to have students video themselves or family discussing what they are thankful for or what Thanksgiving means to them are also ways to create Thanksgiving primary sources.
So, this Thanksgiving, think out of the box. Have students use their voice to document Thanksgiving and make their own primary sources! For more information on creating oral histories, creating media responsibly, and digital storytelling, check out more articles on the TeachersFirst site!