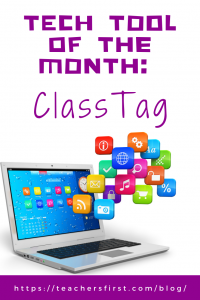 Communication in the classroom is key! Did you know that June is Effective Communication Month? I can't think of many skills that are more important, as an educator, than being an effective communicator. The tech tool we are sharing this month is ClassTag, a management system for teachers to engage and communicate with parents. ClassTag is currently used by over 50,000 educators to communicate with over one million families. Wow! Read all about ClassTag in our TeachersFirst Review.
ClassTag is a device agnostic tool, meaning it will work on any device, on a web browser, or as an app on iOs and Android. This tool is completely FREE for teachers and parents (no hidden fees). All emails that you include when you register receive email notifications from you, regardless if they download the app or sign-up (super easy for all). This private and secure site allows you (the teacher) to decide what the parents can see. Send out automated newsletters, messages to parents, follow-ups, reminders, field trip sign-ups, and more. Parents can sign-up for conferences, volunteer opportunities, and even reply to donation requests all with just one click. Have I mentioned how easy this tool is to set up and use with your families?
If you aren't sold on this site yet, here is another WOW fact! ClassTag is a smart site and will convert your notes to different languages and the format that you prefer (newsletter, email, etc.). This is a great way to communicate with parents who may have limited English language skills. There are many other cool features to this tech tool. However, if I had to pick my favorite feature: teachers can view who has read the announcements and other news shared.
ClassTag is also an amazing tool to use to share photos, classroom events, and news. They say they are a "frindow" a window and virtual fridge door all in one. So rather than send home papers that end up hanging on the fridge (or get lost in the shuffle), share via ClassTag!
Class budgets in many areas are being cut. This site can even help with that issue. One of the coolest features of this site is that active classrooms using ClassTag can unlock free supplies for their classroom. See the ClassTag Rewards area to start earning those points!
Let's talk about some practical uses for this tool. Send homework reminders for students and messages for those who may have been absent. Send reminders to parents about upcoming quizzes/tests, projects, class presentations, events, and more. Include upcoming dates on your weekly newsletter for deadlines, assignments, field trips, sports events, assemblies, after-school activities, and more. Post your "class wish list" for donation requests. Share this site at Back to School Night to get parents familiar with what to expect. You could also use this tool outside of the classroom if you manage or coach any sports teams, scouts, school musicals, and other extra-curricular activities. Setup a school group for all faculty members to keep everyone in the loop about special events, early dismissals, donation requests, and more. Since this tool is free, earns you free class supplies, and is so simple to use – – the real question is why would you NOT use it? Have you tried ClassTag? We would love to hear all about your experiences.