"No skill is more crucial to the future of a child than literacy."

Los Angeles Times
November 1st kicks off Family Literacy Month with National Family Literacy Day. These events highlight the importance of family literacy programs. Typical activities include inviting family members to the school to read to students, book drives, celebrity readers, and other book and reading-related events.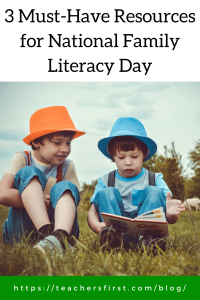 Did you know that TeachersFirst has already curated many excellent literacy resources for you? Instead of getting lost while searching for new ideas and activities, take a look at these family-friendly ideas that are ready to use.
TogetheRead: Each month, TogetheRead shares a monthly theme for readers of all ages from pre-school through adults. Some of this year's topics include Unusual Travel Adventures, Partner Books, and Faces and Features. TogetheReads isn't just a list of books, it also provides helpful tips for sharing and discussing books across the different reading levels. 
Share TogetheRead on your class website for parents and guardians to use each month. If you have the books that correlate with the monthly theme, be sure to place them out for student use. Ask your school or community library to pull out books based on the subject to make them readily available to families.

Take a look at the section with tips to build better readers. Share these tips with families in your classroom newsletter. 

Each age-level of TogetheReads includes some activities that match up to the theme. Consider doing these activities in your classroom and differentiate according to students' reading levels. 
Reading for All: This section on TeachersFirst provides an overall look at the many literacy resources available to promote understanding across subjects and grades. It includes links to audiobooks, reading strategies resources, and tools for vocabulary development. 
Be sure to bookmark this site on your devices to use anytime when looking for literacy resources. Having this bookmark readily available is especially helpful when working with students with varying levels of reading abilities.

Take advantage of the many content-related resources available on Reading for All to find reading materials to engage students and enhance learning by providing them a variety of book options.

Did you see the link in Reading for All to graphic organizers? It leads to one of my favorite sections on the site. Follow that link to a Special Topics page created with the best of the best graphic organizer sites. Use these sites to find graphic organizers to learn together with your students or for them to use independently.
Reading Strategies Special Topics Page: TeachersFirst Special Topics pages contain curated resources on a variety of topics. Because there are so many resources available, these Special Topics pages highlight some of the best (no more than 30) resources for that particular topic. This Special Topics page contains some of the best resources with teaching ideas and strategies for teaching reading skills. 
Use this list to find tips for teaching reading in content areas. For example,

Reading Like a Historian

(

TeachersFirst review

) for grades 6-12 is an excellent site from Stanford University that shares a curriculum based on historical inquiry. Even better, each lesson includes primary documents designed for use with students with a range of reading skills. 

If you need some reading strategies, take a look at

Classroom Strategies from Reading Rockets

(

TeachersFirst review

). In addition to the professional information on teaching reading, this site contains a robust library for teaching literacy. Each strategy includes a classroom video, templates, examples, recommended books to teach the strategy, differentiation ideas, and supporting research. It is like having your own literacy professional development session right inside your computer! Be sure to share suggestions with parents to help build literacy at home. 

If the 28 resources on this Special Topics page aren't enough, check out all of TeachersFirst's

resources tagged as reading strategies

. In addition to web resources and videos, this tag also includes links to archived OK2Ask webinars sharing tips, tools, and strategies for teaching reading.
National Family Literacy Day is right around the corner; be prepared to include families in your literacy activity this November and throughout the year with the many ideas found in these three resources by providing them with practical tips for enhancing literacy skills through a variety of materials and activities. 
How do you celebrate Family Literacy Day? We would love for you to share your ideas with our readers in the comments below.