Digital Citizenship Week 2019 starts today! Digital citizenship in 2019 is all about changing the narrative of digital citizenship from teaching students what they should not be doing online to teaching students what they should be doing online instead. What does that mean? 
Inclusive – Open to hearing and recognizing multiple viewpoints as well as engaging with others online with respect and empathy
Informed – Evaluates the accuracy, perspective, and validity of digital and social media posts
Engaged – Uses technology and digital media for civic engagement, solving problems, and being "a force for good in both physical and virtual communities" 
Balanced – Makes informed decisions about prioritizing activities on and offline
Alert – Aware of online actions and knows how to be safe as well as how to help others be safe online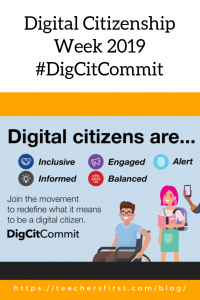 Where are you on your digital citizenship journey? Wherever you are, you are not alone.  Start off with free Digital Citizenship Week activities.  Explore digital citizenship resources.  Register for the 5th Annual #DigCitSummit summit.  Join the Dig Cit Commit community.  Spread the word amongst your colleagues!
Take your digital citizenship teaching to a new level starting this week. Start teaching your students more than how to be safe online. Empower them to be proactive masters of their digital lives during Digital Citizenship Week!