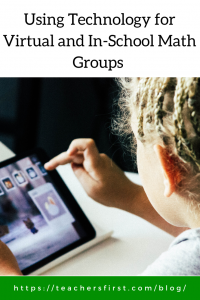 As I write this blog, millions of students are out of school, some indefinitely, due to closures related to the coronavirus outbreak. Educators immediately jumped into action to provide at-home lessons for students. Some sent home learning packets; others didn't even have time to prepare at-home materials yet have found ways to stay in touch with their students and continue delivering lessons to their students.  
It is heartening to see the many reports of teachers using technology to stay in touch with students and provide the comforts of school from a distance. Perhaps one component of education to analyze when life returns to "normal" is the importance of having a technology plan in place for both "normal" learning situations and the unexpected.
My original intent was to share guidelines and suggestions for use with in-school math groups as we take the time to celebrate Math Awareness Month. Given the current uncertainties on when students will return to school, the ideas are adapted to include ideas for use in remote learning situations that quickly adapt to in-school use. 
These collections created by TeachersFirst provide a quick start along with guidance on how to start remote learning and are divided into grade-level bands. Let's take a look at each of them and how to modify for use with math groups either at-home or in-school.
Keep in mind tips shared for younger students. Allow time for students to explore any new websites before assigning work. Make adjustments for using the technology, keeping in mind what is available and what kind of support your younger students have in completing their tasks.

One resource shared in this collection is

Turtle Diary

(

TeachersFirst review

). The different grade levels and concepts practiced on Turtle Diary lend themselves to differentiation for math groups. Share specific games with parents that meet individual student's learning needs. If learning from home, think of the various groupings as your virtual math groups.

For students to demonstrate learning,

ABCya Animate

(

TeachersFirst review

) lets students create animations. For virtual learning needs, create a short screencast using

Screencast-O-Matic

(

TeachersFirst review

) or share a link to a YouTube tutorial with parents on how to make and share their animations. Be sure to post student creations on your website or blog for classmates to share their learning with peers.
Math/Science Grades 3-5 collection – 
Students in these grades are more independent than primary-level students; however, they need specific directions and information to stay focused on the assigned task. When necessary, share or create tutorials to provide expectations for learning objectives and any work to be submitted.

This collection features the website,

Prodigy

(

TeachersFirst review

). Prodigy helps you create math groups by assigning game-based content based on your learning objectives. Use your Prodigy dashboard to assess student learning and adjust groups as needed. Keep parents in the loop by sharing your curriculum goals and how they match up with the assigned content. 

Use

Flipgrid

(

TeachersFirst review

) to share learning with whole-class and group lessons. Create discussion questions, or visit the Disco Library to find ideas to adapt to your needs. For example,

this topic

encourages students to discuss Would You Rather math questions and would be an excellent idea for whole-class discussions or as a weekly prompt. When using groups,

this topic

asks students to share what they know about fractions. Adjust this to fit the content and difficulty of lessons within your in-school or virtual math groups. 
Math/Science Grade 6-8 collection – 
Students in these grades need routines and specific expectations. Try to match up virtual learning experiences closely with classroom routines. Collaborative online projects provide an excellent opportunity to maintain social learning, along with achieving curricular objectives.

PhET Interactives

(

TeachersFirst review

) are engaging math and science simulations that provide students the opportunity to experiment with math concepts through explorations and games. Use these interactives to practice and review skills as needed, and offer opportunities to explore new concepts. When appointing math groups, consider assigning a topic for each group then rotate content weekly. Many of the activities have links for teacher use, and these links include printable lesson plans and activities to provide focus while using the site.  

Use

Wakelet

(TeachersFirst review

) for students to show what they know. Create a Wakelet collection for each group to share their learning. The Math/Science collection includes some templates with ideas on how to create and share templates for assessment.
Students', parents', and educators' lives are turned upside down by the consequences of the coronavirus. It is essential to work together to provide emotional and academic support to all. As you think about how to adjust math instruction, consider using virtual math groups as an option for remote learning. When life returns to normal, these ideas easily integrate into regular instructional practices. Find a complete list of all of TeachersFirst's remote learning collections at https://wakelet.com/@SFLOK2Ask.
Do you need additional ideas or suggestions? We are here to help. Share in the comments what works for you, what doesn't work, or any other thoughts that might help our readers. We are all in this together.