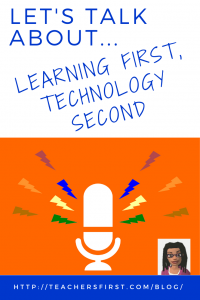 This week we started the TeachersFirst®️ summer book study. Our text this year is Learning First, Technology Second (ISTE, 2017) by Liz Kolb.  I first learned of Dr. Kolb and her work with instructional technology through my work with the ISTE Edtech Coaches PLN.  Dr. Kolb was the featured author in a session hosted by the coaching group.  
I had worked with teachers for over a decade as a coach, trying to help teachers understand what "good" instructional technology use was.  Instructional goals and strategies vary significantly.  There wasn't a standard answer that I could give teachers when they asked why I would suggest different strategies for teachers who seemed to have the same goals in mind. Learning First, Technology Second, gave me the terms needed to better explain the nuances of technology implementation to the teachers I was supporting.  
The book demystifies some assumptions that people make about using technology in the classroom:
Engagement

isn't really about the bells and whistles that software has. It's about scaffolding a student's focus on the given task and motivating the student to become an active learner. Used appropriately, technology we elect to use for engagement increases student time-on-task.

When instructional technology is chosen and implemented well in the classroom, it should enhance (or add value to) the learning experience. Students should be better able to understand concepts with the use of technology.  The technology used should scaffold higher-order thinking that allows students to demonstrate their understanding in more sophisticated ways. 

The use of technology should extend the student's skill set, giving them additional knowledge helpful in everyday life.  Technology tools can also extend student learning by allowing students to learn outside of their typical classroom – different hours, from home, etc.

Technology use should be coupled with research-informed strategies to make the most of instructional experience.  Good teaching and learning is required to maximize student attainment of instructional goals.  
The book can also help end the debate some educators have about how much technology is too much.  Learning First, Technology Second helps us to understand that unless the technology is coupled with good instructional strategies, it should not be used in the classroom.  
How do you determine what proper technology implementation includes?  Do you use a particular framework?  Let us know in the comments below!