In Part 1 of this blog, we introduced you to Flipgrid and discussed the application of both the SAMR Model and the Triple E Framework to help you integrate Flipgrid into your instruction. Today's post offers detailed instructions about how to use this tool and also shares classroom use ideas by subject.
How to Use Flipgrid:
To start using Flipgrid as an educator, log in or follow the prompts to sign up (if you need a new account). Students do not need to create an account—they simply click on Enter a Flip Code.
Students will be prompted to enter their code.
After students are logged in, they can view the question and submit their own video by clicking the large green + sign.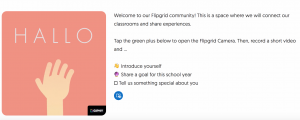 Now let's talk about how you can create your own grid questions. Educators can log in using an email and a password or using their Google or Microsoft accounts.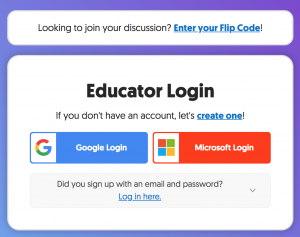 Once you log in, you will be able to view your grids. You can also view the "Getting Started Guide" to help you navigate the site. On this landing page, you can see how much shared learning time has happened within all of your grids. To get started, click Add New Grid.

Name your grid and then select a Grid Type. You can use School Email (students join the grid using their Google or Microsoft emails), Student ID (you create a list of student IDs to join your grid—great for younger kids without emails), or you can create a grid for the Educator Learning Community (shares a public grid with other educators in your network). You can also change the default URL to a unique one with your Flip Code before you submit to create the grid.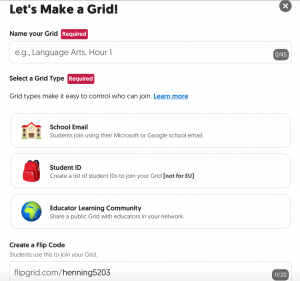 Now you are ready to create your topic! Add the title and prompt for your grid/question. Choose the amount of time allowed for the students to record their video responses.
This is also the area where you can turn on Video Moderation, allowing new video responses to be hidden from the class until you approve and activate them.

You can even add a video or photo to explain the instructions to your students. Once you are finished adding the final touches, click Create Topic.

The site will produce a unique URL for each of your topics. You can embed the grid, copy and share the link, or share using Google Classroom or Remind.
Notice that the finished grid offers the Flip Code, Share options, and Actions (which you use to edit your grid).
Reminder: students will need to allow access to both the camera and microphone to use this tool. There is also an app available on both Android and iOS devices.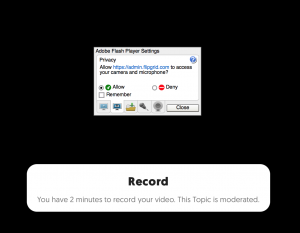 Teachers can view how many responses, comments, and views they have received, plus how many hours of shared learning has happened through that grid question.
One area you don't want to miss is the Disco Library! At the Disco Library, you'll find literally thousands of ready-to-go grids that you can use or edit and use as you wish. Search topics, playlists (collections), weekly hits, and more.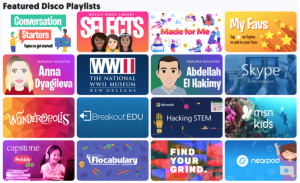 At the time of this blog post, there are 20,842 topics in the Disco Library! Each topic includes the title, subject area, and audience/grade level suggestions.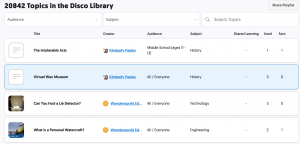 Here were a few of the Weekly Hits from the time this blog post was created. This will change regularly, so check back for new inspiration.

Another must-see feature of Flipgrid is GridPals. With GridPals, you can connect to other educators around the world who also use Flipgrid. Click the link to learn more about GridPals. Set your GridPals to be Hidden (if you do not want other educators viewing your profile) or Active (if you want educators to find you and connect.)
This is an example of an active educator. When you are searching for other educators to connect with, you can view whether they use the Disco Library, the grade level they teach, and their subject area. Some teachers may also include ways to connect with them on social media.
You can click to find a GridPal from around the world using this map. Just click on the green + sign/circle in the location that you are searching for a class to connect with.
You can also search for new GridPals by grade level and subject. The subjects can be very general (such as science) or more specific (such as agriculture or biological sciences). There are many subject options and currently over 20,000 GridPals on the map who are ready to connect!
You also have the option to go through the list of educators yourself and view locations, names, subjects, and grade levels that they teach. Use GridPals to connect and collaborate with other classes from around the world as you build your own students' understanding of global citizenship.
Classroom Use Ideas:
Flipgrid allows educators an engaging way to formatively assess their students, connect with other classrooms around the world, and collaborate. Use Flipgrid's GridPals in geography class to connect with classes in other parts of the world and build a deeper understanding of other cultures. Use GridPals in a world language class to connect with classes that speak the language you are teaching. Connect with a class in a higher or lower grade to become writing or reading buddies.
Create a Flipgrid in any class or subject relating to the current unit. Use a grid as a tool for formative assessment to evaluate what information students understand and what many need more clarification on. Consider having students create their own Flipgrids and comment on the video responses. This tool can be useful in nearly every subject area and for countless topics. We've included several ideas for using Flipgrid below, but the only limitation is your imagination. Don't forget to visit the Disco Library for inspiration and ready-to-go grids!
Create a grid question about…
Social Studies:
A battle from a war.
A country, state, or famous city.
A famous landmark.
Civil rights.
The use of the atomic bomb in World War II.
The voting process.
How bills are passed through congress.
A famous person from history, such as a president.
Science:
The steps in the Scientific Method or the Engineering Design Process.
A question related to a class science experiment or lab.
Astronomy, stars, and the phases of the moon.
Simple machines.
Animal dissection lab results.
Weather phenomena.
The human body (or systems of the body).
Math:
The steps to solve a difficult word problem.
Adding improper fractions.
Multiplying decimals.
Solving algebraic equations.
The difference between the mean, mode, and median.
How to find area and perimeter.
Finances and monthly budgeting.
Language Arts:
Beginning reading skills (have students read to you on the video).
Basic reading and word families.
Reading comprehension related to literature in class.
The climax of the story.
A famous author, highlighting where they're from, key points in their lives, and other biographical information.
The evolution of a character from a story.
Types of poetry (students can read their poems or famous examples).
World Languages:
Student introductions in the new language.
Students' bucket list of 10 things they want to do over the summer, said in Spanish (or any other world language).
New vocabulary related to the family, animals, food, or other topics currently being taught in class.
Creative Arts:
A new dance.
A specific form of art.
A famous artist—have students research then share short videos explaining what they learned.
Playing instruments to serve as an assessment in music classes.
Additional Video Tutorials and Articles:
Have you used Flipgrid in your classroom or for professional learning? Share your activities in the comments below!