In Part 1 of this blog, we introduced you to Classroom, Inc. and discussed the application of both the SAMR Model and the Triple E Framework to help you integrate Classroom, Inc. into your instruction. Today's post offers detailed instructions about how to use this tool and also shares classroom use ideas by subject.
How to Use Classroom, Inc.: To start using Classroom, Inc. you will need to register for an educator account by entering your email. You can also click to share how you plan to use the Read to Lead program.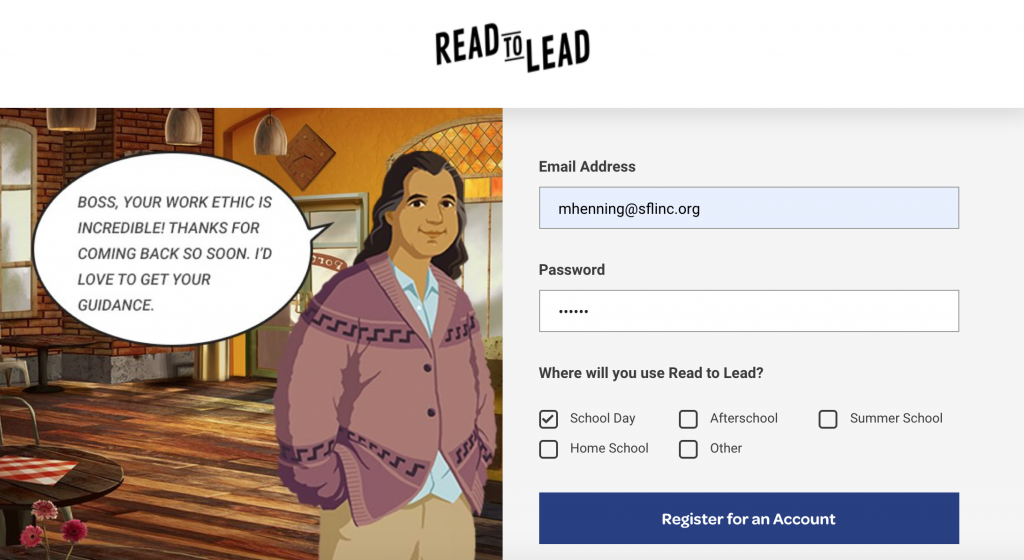 Your students do not need to create an account to use Classroom, Inc. After you create your account, you can click to create a new class, name the class, add students, and print log-in cards for them. When students go to the site to log in, they can create their own username, but no email is required (and they don't need to use a first and last name). Students could use a nickname or even student ID number.
There are three collections (units) in Read to Lead. The first immersive unit is Community in Crisis. This unit is designed for grades 5-6 and includes 12 games, 32 lesson plans, and 3 projects. The activities in this unit have students take on the role of the Director of Common Ground Community Center, where students must oversee the staff and services.
For grades 6 and 7, they have the immersive experience called Vital Signs. This unit includes 12 games, 36 lesson plans, and 3 projects. For this unit, students take on the role of the Medical Director at a family health clinic, where students must manage the staff and patients.

After The Storm is designed for grades 7-9 and includes 20 games, 20 lesson plans, and 3 projects. For this unit, students take on the role of Editor-in-Chief of a digital magazine as they manage reports, edit stories, investigate leads, and make sure that the facts are facts!

While each of the units offer a different immersive experience, the functionality of the activities is similar. For example, each unit includes games, introductory lessons, enrichment projects, and literacy skill-building lessons. You can click to go to a specific area or begin by previewing the game.

Each scene of the game includes clickable information to help your students along as they investigate, look for clues, and complete the activities.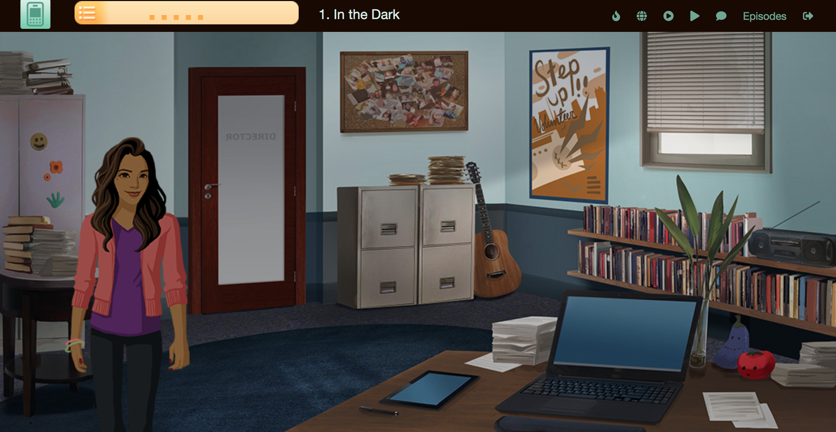 This image shows an example of what happens when you click on the female in the previous image (shown above). By clicking on items (or people), you can learn more about the character and facts relevant to the activity. You also have the option to listen to audio and click additional links to learn more.
If you want to listen to the text aloud, click the buttons to play, rewind, and even slow down the rate of speed. (This is a great feature for students having a difficult time processing the information.)
Another really neat accessibility feature of this site is the translator option. Simply click on the small globe on the page to translate the text into more than 100 languages.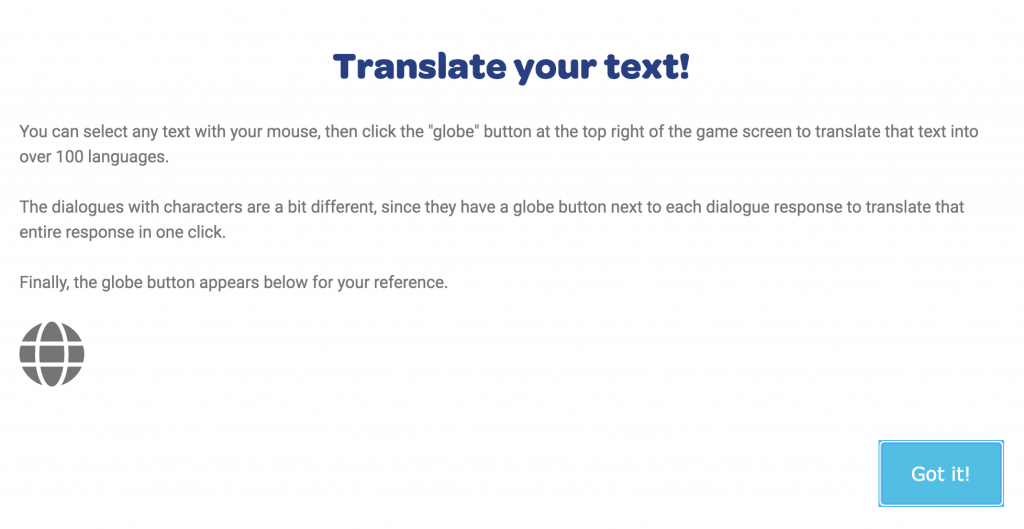 As students work through the activities, you can click to view more information or turn off the tutorial. This is a great feature for students to use to learn more, offering scaffolding as they need the information.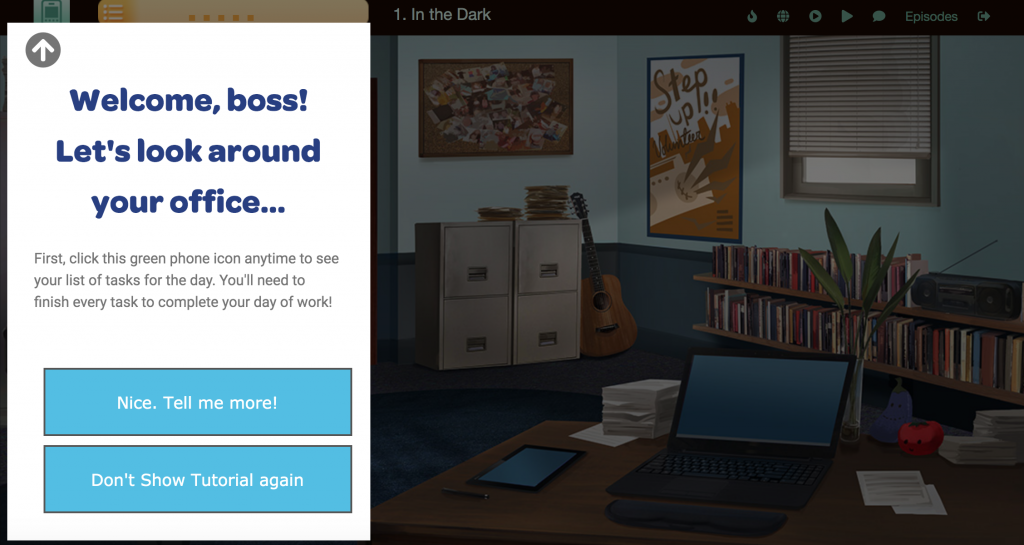 Each unit includes supplementary lessons to use before, during, and after the activities.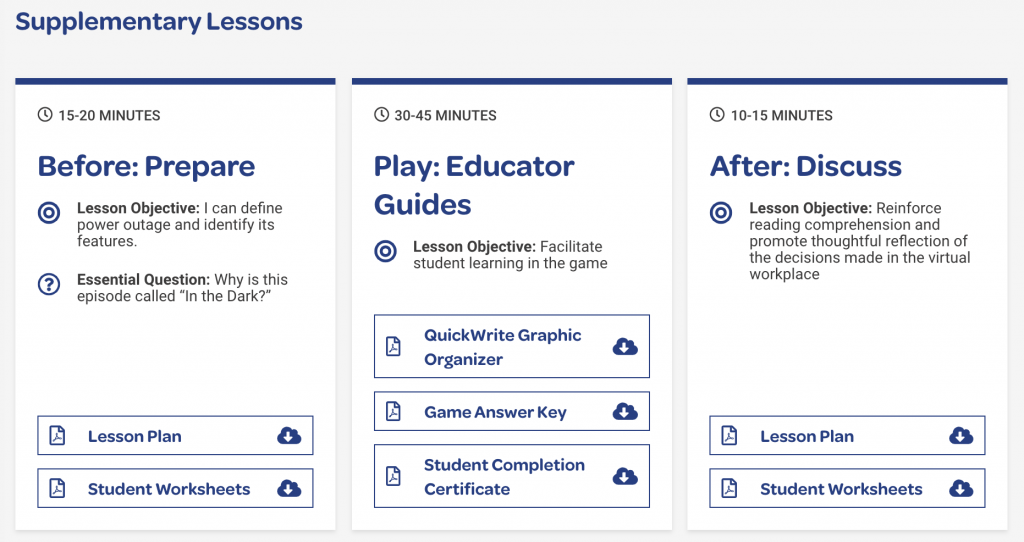 Check out the How it Works page for additional ways to implement the activities and view an introductory video.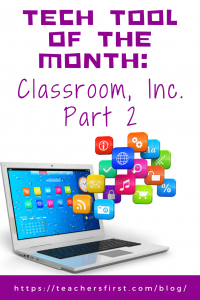 Classroom Use Ideas:
Classroom, Inc. most specifically connects to social studies and language arts curriculums and topics, but it could be integrated into other subjects. Lexile levels are included with each unit/game. The resource also addresses topics that don't necessarily tie in with one specific content area, but rather weave throughout the entire curriculum and real-life skills. For example, you can use these games to further develop your students' experience with leadership, flexibility, social skills, cross-cultural skills, self-direction, responsibility, adaptability, productivity, accountability, and initiative. Below are some additional classroom ideas to try with your students.
Students can use the activities at Classrooms, Inc. to…
Social Studies:
Work in pairs to complete the games and activities available at this immersive site.
Create a list of leadership skills used to complete the activities. Share the list on a collaboration tool such as Padlet.
Write a blog post (or news article) about what makes someone a good leader.
Participate in a class discussion about diversity after completing the Community in Crisis activity.
Create a list (with a partner) about ways that a leader can address security issues in an empathetic manner after completing the Community in Crisis activity.
Learn about a variety of career possibilities by role-playing in a virtual atmosphere.
Start a discussion on political scandals after completing the After the Storm activity. Use this as a starting point for students to research other political scandals of the past with a partner.
Science:
Explain the steps of the Scientific Method or the Engineering Design Process used to complete an investigation on this site.
Learn more about certain medical conditions discussed in the Vital Signs activity (such as anxiety).
Learn how counseling and medicine can help with medical conditions in a variety of ways using the Vital Signs activity.
Lead a class discussion on how to use evidence in a case, what to trust, and how to make sure the evidence isn't fabricated after completing the After the Storm activity.
Math:
Create a word problem related to one of the stories/games to share with the class.
Share a student's problem-solving process that includes what steps they took to solve parts of the interactives.
Language Arts:
Practice close reading as students work through the units and activities.
Complete evidence-based writing independently or with a partner.
Participate in a class verbal discussion evaluating the arguments from the units.
Keep a journal of the activities and findings throughout the story.
World Languages (and ESL/ELL):
Use the language features to hear the text in other languages for English as second language learners or for an additional challenge in world language classes.
Additional Video Tutorials and Articles:
Have you used Classroom, Inc. in your classroom, or for professional learning? Share your activities in the comments below!