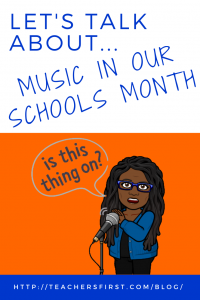 March is Music in our Schools Month®️. This year's theme – Music The Sound Of My Heart – brought to mind several ways that educators can leverage music to practice Culturally Sustaining Pedagogy (CSP) in the classroom. Music is such an essential part of every culture that using it in instruction has been a strategy for ages. It is crucial, though, to stop and make sure that we choose music that is rich with both the language and cultural nuances of our students when we use it.
"Trickster" tales are helpful in many places in the curriculum. Start With A Book has an excellent unit on Trickster tales at lower elementary grades as cultural examples of ancient civilizations. Yale University shares a teaching unit using trickster tales with reluctant middle school readers (reviewed here). What if we added the study of Trickster tales to music class like Brer Rabbit as an Opera? Combining the elements of language, the American tale, and BIPOC performers would allow students to see their culture honored in a way they may not have before.
Remembering that culture is dynamic, shifting, and ever-changing, another way to honor student culture is through parody. The Read, Write, Think website offers a lesson on understanding writing style through creating parody poetry (reviewed here). Parody allows students to use their own language as they write satire. Music can be used in much the same way as seen on the MrBettsClass Youtube channel (reviewed here). Imagine what your students might come up with when challenged to create musical parodies? Here's an example of Dua Lipa's "New Rules" turned into lab rules.
Last summer, we were reminded of the musical Hamilton in this blog post by Sharon Hall. As she mentioned, studying the lyrics can help students learn about a number of our founding fathers' lives and times. Taking a cue from this trendy genre, students can create original compositions about other historical events. Using Who's Yellen Now as an exemplar, students might learn to create contemporary biographical pieces.
Do you have ideas for using music to practice culturally sustaining pedagogy? Please share them with us in the comments below.