"Toys are children's words and play is their language."

Garry L. Landreth
When you think about Barbie®, what image pops into your mind? Is it the iconic doll with the blonde ponytail and slim figure? Perhaps you conjure up a picture of Barbie with her many accessories that include a beautiful Dream House, her perfect boyfriend Ken, and a pink convertible.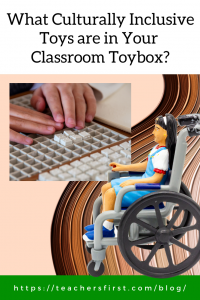 Since her debut on March 9, 1959, Barbie has been controversial. At first, the controversy was about her figure – many considered her too curvy and sexy for children. There have been criticisms over programmed sayings about how tough math class is, the introduction of a black Oreo Barbie, and an overall lack of cultural inclusiveness. Through all of this, more than a billion dolls have been sold worldwide and Barbie continues to be a perennial best-seller.
Like many other toymakers, the developers at Mattel are working to address these criticisms – their latest development is the introduction of several new Barbies in their Fashionista line, which now includes choices of eight body types, 35 skin tones, and 94 hairstyles. Other options include dolls with physical disabilities and conditions such as vitiligo.
Mattel is just one of several toymakers offering toys adapted to diverse needs. As you add games and toys for your classroom, it is essential to be mindful of including items that provide opportunities to embrace differences and make all students feel accepted.
Here are some additional options to consider including in your classroom to add diversity and inclusiveness during play:
Uno® Braille – Uno Braille is an inexpensive option to add to your game collection. It uses easily readable dots on each card that make the game inclusive for blind and low-vision players. Add it to your game box even when you don't have a blind student as a way for all students to learn and practice Braille numbers and colors. While playing, students will also learn to empathize with those with visual impairments and understand some of the difficulties faced that students with good eyesight don't encounter.
Wonder Crew Dolls – Who says dolls are just for girls? Wonder Crew Dolls combine the looks of an action figure with the feel of a stuffed animal. These dolls allow both boys and girls to engage in role-playing activities that develop various social skills.
LEGO® audio and Braille building instructions – Building with LEGO bricks isn't always easy for the visually impaired, so LEGO developed some tools that make it easier for anyone to use their kits. Select any of the included sets to build using a screen reader, audio instruction, or a Braille reader.
Ms. Monopoly® – Girl Power! In this version of Monopoly, the women make more than the men. As players pass Go, males collect $200 and females collect $240. Including this game in your collection is sure to inspire many discussions on fairness and equity both within and beyond your classroom.
Plastic Army Women – For many years, platoons of green toy soldiers have only included male characters. Now it is possible to include women in your collection.
Mattel Creatable World™ Dolls – These dolls allow children to create and change characters over and over again. Use these gender-neutral dolls to build toys free of gender and image stereotypes.
My Family Builders™ – Mix and match magnetic wooden blocks to build a family of your choosing. The blocks come in various kits that all include multiracial pieces that promote diversity and cultural inclusion. Use these blocks to help students to explore and build narratives that expand their imagination. Encourage communication about race, gender, and ethnicity through play.
Children of all ages learn through play and respond to cultural stimuli around them. In addition to including diversity and cultural awareness in your lessons, be sure to include diversity in your physical environment and playtime options.
This list is just a starting point when considering diverse options for games and play in your classroom. Do you have others to share? We would love to hear about ways you bring diversity to your students through play in the comments.