International Museum Day takes place on May 18th! This year's theme is "The Future of Museums: Recover and Reimagine." National and local museums are amazing educational resources. Museums provide access to primary sources, in-person and virtual tours, lesson plans, educational resources, topic experts, and more. Today's museums are a window into our past and can help your students make real-world connections to history and culture.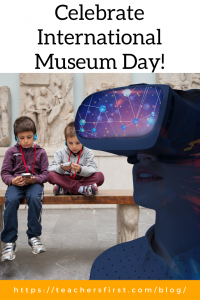 There are many different types of museums dedicated to a variety of subject matters. Some museums are devoted to sharing the history and experiences of a specific group of people or a specific event or period in history. Others are devoted to a specific topic, place, or audience. Today's museums can help you bring conversations to life in your classroom. The book featured in the video above is Milo's Museum, and it's all about the importance of making personal connections to museums.
Some museums that are all about a specific people and culture are the National Museum of African American History and Culture, the Asian Pacific American Center, and the National Museum of the American Indian. Each of these museums offers virtual tours or virtual field trips as well as educational materials to help teachers incorporate their artifacts and exhibits into the classroom. The Asian Pacific American Center is different in that it is a migratory museum that brings history, art, and culture to you through innovative, community-focused experiences brought to life online. 
There are many specialized museums that have resources that will help you spark conversations in your classroom about a variety of historical topics that are still culturally relevant. The United States Holocaust Memorial Museum and the Auschwitz-Birkenau Memorial and Museum both offer holocaust-related primary sources and lesson plans. The Rohwer Japanese American Relocation Center and the Manzanar National Historic Site offer virtual tours and curricular resources about the internment of Japanese American citizens during World War II. All of these sites offer rich material and engaging lesson resources to bring these topics to life in your classroom.
If you are looking for material to give a historic backdrop to some of the current issues in America today, the National Civil Rights Museum, the International Civil Rights Center and Museum, The Legacy Museum/ National Memorial for Peace and Justice, and the Jim Crow Museum are excellent places to begin. They all offer primary sources and engrossing activities like virtual tours, lessons, and interactive activities for classrooms. The Museum of Tolerance, The Museum of the City of New York's Activist Exhibition, and the Chicago Children's Museum of Art and Social Justice all offer resources about issues and current events taking place in America and around the world today. Whether you are looking for lessons or primary sources for classroom conversations, you will find something of use. Museums are captivating and illuminating educational resources. As always, look to TeachersFirst resources and blog posts for more classroom-ready materials. Happy International Museums Day!