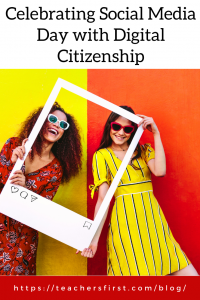 Observed annually on June 30, Social Media Day was created by Mashable in 2010 to celebrate the power of social media for connecting the globe. Today, social media is the hub of global communication. Social media platforms allow us to quickly and conveniently connect with friends and family, make new friends, pursue business opportunities, and network on a global scale. It seems fitting that we celebrate how social media has revolutionized how we communicate globally!
Social media has redefined how teachers and students interact in a global culture, making digital citizenship more important than ever before. In a globally connected world, digital citizenship skills are critical to harnessing the potential of technology. The International Society for Technology in Education (ISTE) writes, "Digital citizenship goes beyond conversations about personal responsibility. It's about being active citizens who see possibilities instead of problems, and opportunities instead of risks as they curate a positive and effective digital footprint." We must teach our students to be good stewards of the digital world through social media and help them become safe, responsible, and effective global digital citizens. Listed below are digital citizenship resources to help you focus on all aspects of your students' digital lives.
Practicing digital citizenship skills is just as important as teaching them to our students each year. Teaching and demonstrating these skills ourselves will help create a better future for our global digital citizens. What strategies and resources are you using to teach digital citizenship? We'd love to hear them in the comments below!