Did you know that dust busters, wireless headsets, and invisible braces link back to inventions initially intended for use in space? This interesting USA Today article shares more everyday innovations created for space use. July 20 is Space Exploration Day and Moon Day, which coincides with the annual commemoration of the first moon landing in 1969, Apollo 11's historic first.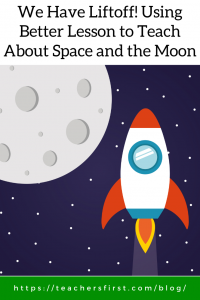 The Next Generation Science Standards include many different contexts for learning about the moon. In younger grades, learning about the moon begins with observations and understandings of the moon's place in space and the universe. Middle school students begin to explore lunar cycles, eclipses, and using data and graphs to look at patterns in space. As high school students study space, they apply evidence and scientific reasoning, using earth and space materials to understand the movement of the earth, the formation of the planet, and its early history.
Developing high-quality lessons that meet standards and provide students with opportunities to explore and understand more significant concepts takes time. One starting point for first-rate lessons to use and adapt is Better Lesson (reviewed here). Better Lesson contains a sizeable instructional resource library that includes free lessons, resources, and strategies developed by master teachers. 
All of the lessons found on Better Lesson are correlated to and searchable by English, Math, and Science standards. Each lesson begins with a stated objective and explanation of the "Big Idea" and include all materials needed, such as links to videos, downloadable templates and worksheets, and additional information. Many lessons have teaching strategies embedded within activities and completed student examples.
A search of Better Lesson to find activities related to the moon delivers 275 lessons and three strategies for all grade levels. Many of the site's users have saved these examples as favorites, and they provide an excellent starting point for grade-level appropriate lessons.
Early Elementary Lessons:
Upper Elementary Lessons:
Middle School Lessons:
High School Lessons:
Although you can use Better Lesson without registering, creating a free account offers users the opportunity to save favorite lessons, strategies, and coaching tips for later use. Use the links within the lessons to share content with others, or click on the tags for individual standards to find additional lessons and strategies that address that standard.
If you need additional ideas for incorporating technology to enhance and extend student learning in this or any content area, consider attending one of the upcoming OK2Ask virtual workshops this summer. 
Do you have a favorite Better Lesson or a favorite activity for teaching about the moon and space? Sharing your ideas and comments below helps us all as we work together to improve student learning.