What type of music is your favorite is your students' favorite? Jazz probably isn't the first genre that comes to mind, but April is a great time to explore all it has to offer. Jazz is an immensely popular and uniquely American form of music. Originating in New Orleans late in the 19th century, jazz has deep ties to West African and European music.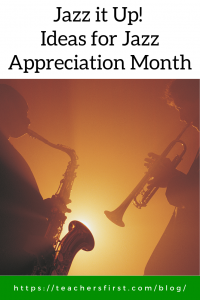 Each April, Jazz Appreciation Month takes the time to celebrate and encourage people of all ages to discover the world of jazz. In addition to enjoying the music, it's a time to reflect upon and discover jazz's deep history and heritage.
Jazz took off during and is strongly associated with the Roaring Twenties, but its popularity remains strong through the influence of young artists and different subgenres, including Latin jazz, smooth jazz, and jazz funk.
Many educators include calming music during student work periods or as a gentle way to begin class. Search YouTube to find many options for relaxing jazz playlists to introduce this music style to your students. They may be pleasantly surprised to see familiar tunes from surprising places, such as Disney movies and artists like Norah Jones and John Legend.
Other online resources offer many opportunities for introducing students to jazz through a variety of methods:
Jazz Appreciation Month provides an opportunity for students to learn about American history in a new way—through its musicians and their musical heritage. It also takes students on a path that provides context to the evolution of contemporary musical genres.
How do you celebrate Jazz Appreciation Month? We would love to hear about your favorite strategies and resources in the comments below.