Along is a tool that provides reflection activities, digital check-in activities, and ideas to use with students that incorporate text, audio, and/or video. Students can choose which format they want to use to share their responses. Educators can share questions with some or all of their students to make connections and check in on their wellness. The site offers many ready-to-go questions and question sets, but teachers can also create their own and send follow-up questions to keep the conversations going. Please note: Along is currently only available to K-12 educators affiliated with a United States school; learn more about educator eligibility here. 
How to Use Along:
When you arrive at the main page for Along, you can see that their main goal is to "help each student feel seen and understood."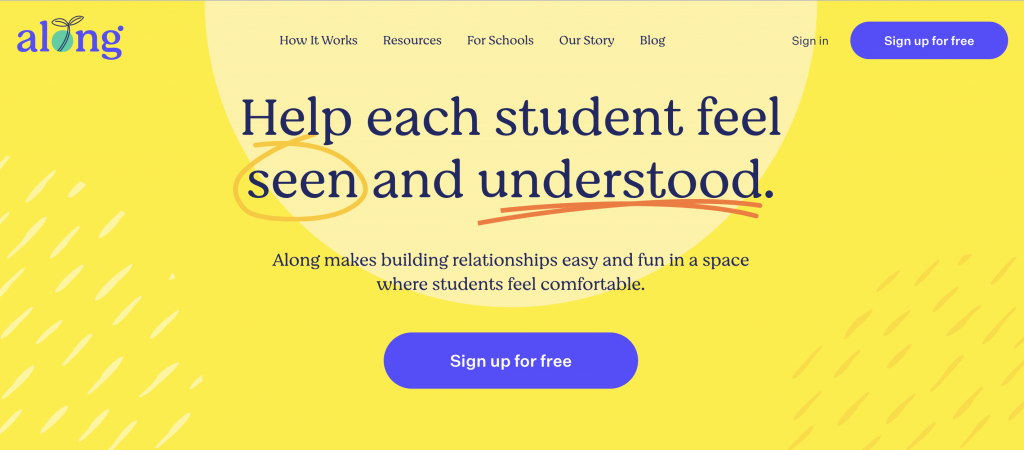 You can sign in using Google or Microsoft. If you don't have an account, you can click to create one. Remember, however, that Along is only available if you use your school email to sign in. Along verifies that you are an educator before allowing you to use this free web tool.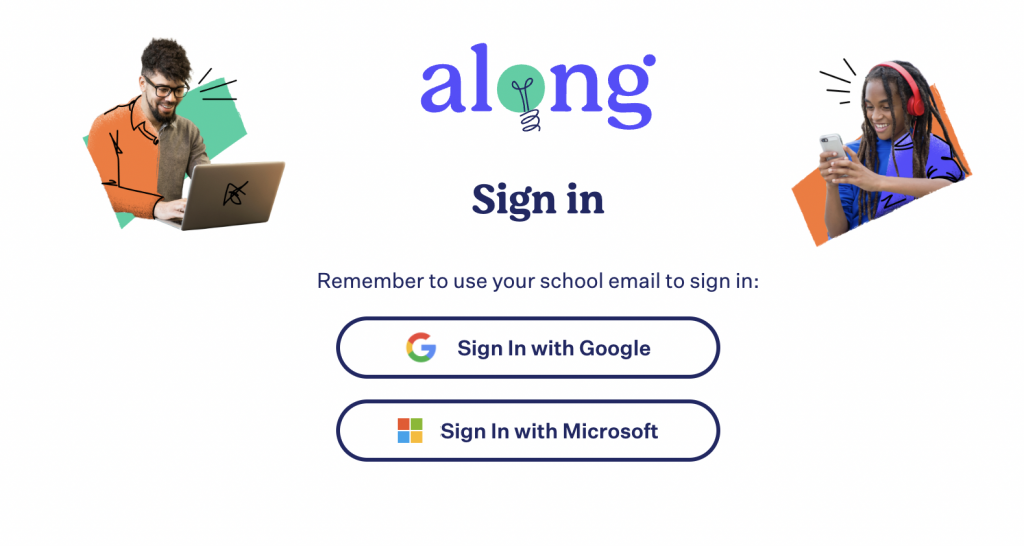 When students click to sign up, they only need the link from their teacher. They do not need to use personal emails, as the teacher creates the accounts.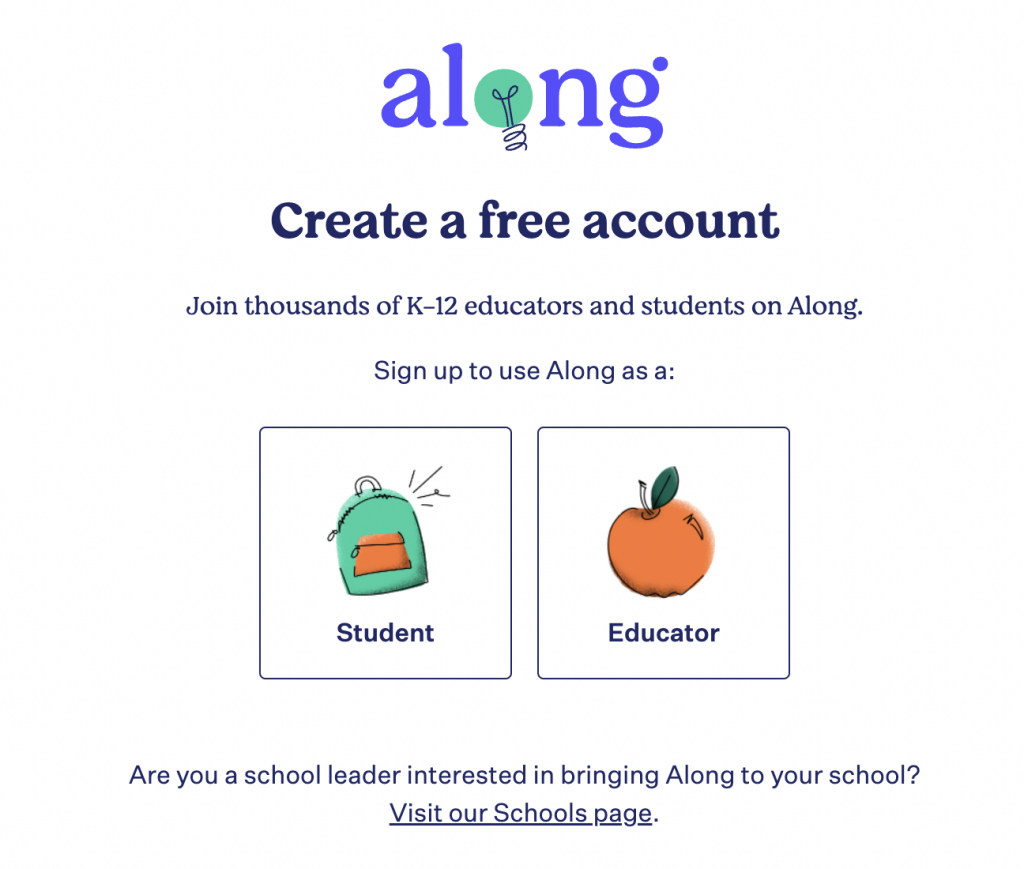 There are many ready-to-go questions, but teachers can also write their own.
There are many sets of questions to explore in the Library. Note that all of the topics below have numerous questions—anywhere from 18 to 47—so there are a lot of choices!

Within each of these topics, there are numerous options to consider. For example, here are some of the Express Care activities. The image below shows some of the question options.
Additional options in the Express Care example include Classroom Activities and Educator Practice.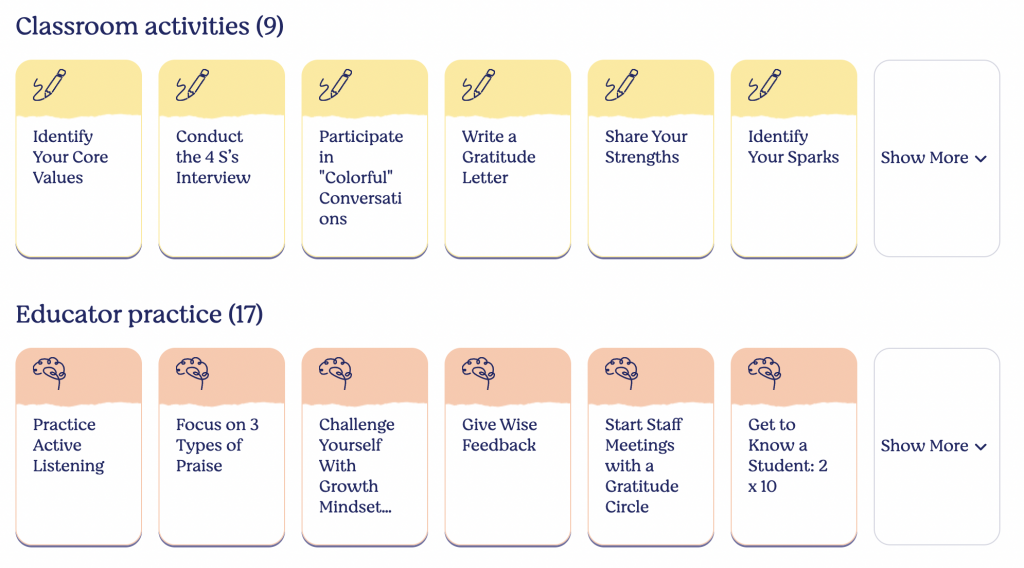 If you want to see this tool in action, here are two videos about the educator experience and student experience. 


Integration Ideas:
Below, we've listed several suggestions for using Along with your class—but the only limit on the possibilities is your imagination!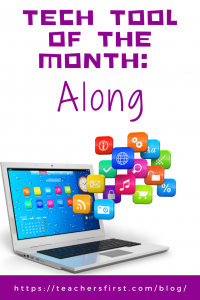 Use Along at the start of the school year to get to know your students more personally. This also helps students learn how to use Along for the remainder of the school year.
Assign an Along reflection question after a lesson as a digital check-in for homework.
Students can do an Along activity or series of exercises during a remote learning day, choosing how they will respond to the question (text, video, or audio).
Use Along as an opportunity for students to share concepts they may be struggling with in geometry, chemistry, or other subject areas. This can help you learn what material may need to be retaught.
After reading a novel, have students use Along to respond to a reflection question using the persona of a character from the book.
Share a question on Along when you have a substitute in class. Have students use the text option (so the sound is not an issue in the classroom) and respond to questions about what they have learned and what questions may remain.
After learning about a person from history (possibly an inventor, president, or Civil Rights activist), have students create a video reflection demonstrating their understanding of the person from the lesson.
Use Along to do monthly or weekly emotional check-ins with your students. You could make it as simple as ranking on a scale from 1 to 10 how they are feeling about school right now (or life in general).

Additional Video Tutorials and Review:
TeachersFirst Review: Along
Have you used Along in your lessons? Share your activities in the comments below!