July 26 marked the thirty-second anniversary of the Americans with Disabilities Act (ADA) signing and is recognized annually as National Disability Independence Day. The ADA ensures the rights of disabled people to access government, public establishments, transportation, and communication.
In the years since the signing of the ADA, communication is arguably the area with the most significant changes. Yet, it remains challenging for many educators to keep up with the new tools and resources available to support student learning, especially for those with disabilities.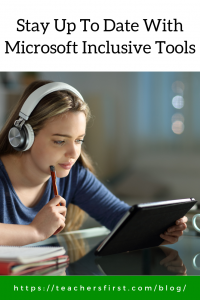 One source of updated information is the Microsoft Learn Educator Center, formerly known as the Microsoft Educator Center (MEC). If you have an account with the MEC, log in to your account and follow the steps to migrate and save your information to Learn.
Learn is an excellent starting point to find resources to learn about accessibility and inclusivity using Microsoft products. Select from special education and remote learning resources, get quick help for Microsoft products, or browse through a video playlist devoted to showing tools that assist with inclusive learning. In addition, Learn offers several self-paced modules that feature a variety of methods for creating inclusive classrooms. Empower every student with an inclusive classroom is an excellent module to use as a starting point to learn about Microsoft's inclusive features across their many products.
Microsoft's newest learning resource is Reading Progress, available in Microsoft Teams. Reading Progress is a fantastic tool that helps students practice reading fluency and provides immediate feedback on accuracy, fluency, and expression; and also integrates Reading Coach for personalized practice. Download this PDF to view a quick overview of the features of this product.
Students use Reading Progress to record and share reading. Upon completion, the Reading Coach provides students with a list of words that gave them difficulty. Click on any word to hear the word, view syllables, and some include a popup image. Students can use the Reading Coach before submitting an assignment to identify and practice areas of difficulty before submitting their work. You can learn more by completing the "Support reading fluency practice with Reading Progress" module.
Use Reading Progress to:
Support students with learning disabilities as they practice reading and receive real-time feedback.
Support English Language Learners with over 100 languages.
Help students in foreign language classes practice fluency.
Differentiate learning by assigning reading passages to students that meet their individual needs and learning goals.
Provide student feedback that incorporates files, videos, and app content.
View the big picture of the literacy skills of your class. Data includes average accuracy rate and is sortable by genre, grade level, course, and more.
Another handy tool provided by Microsoft to support accessibility and inclusivity is the Accessibility Checker found on the ribbon of Microsoft Office Apps. Run the Accessibility Checker to ensure content is accessible for those with disabilities to read and edit the document. In addition, the tools alert you to warnings or errors, such as using difficult-to-read fonts and suggesting recommended actions. This tool is beneficial when transferring documents to screen readers to help clean up information that doesn't communicate well between different platforms.
Microsoft offers many other tools that make access to information more inclusive to all users. Be sure to visit Microsoft Learn often to stay up to date on the newest products and learning modules available for creating an inclusive classroom. Sometimes even a simple change makes a huge difference to learning and understanding the world around us.
How do you use Microsoft accessibility tools in your classroom? We enjoy hearing ideas from our readers that help us all learn together.