In Part 1 of this blog, we introduced you to the GeoFS flight simulator and discussed applying the SAMR Model and the Triple E Framework using GeoFS in your lessons. GeoFS is a free online flight simulator with an open-source platform to render the global landscapes you can fly over. The free tool will work on any device with a web browser (including Chromebooks). Control the aircraft (or hot air balloon) using a mouse, joystick, or keyboard control buttons. Users can choose the destination of where the virtual flight will take place, as well as the type of aircraft. Today's post offers detailed instructions for using this tool and shares classroom ideas.
GeoFS Flight Simulator:
You can begin the flight simulator immediately when you arrive at the site. You can sign in using Google or Facebook, but it is unnecessary.
You can choose your aircraft. There are currently about 30 options, including a hot air balloon.
A great place to begin is at the INSTRUCTIONS. Here you will find many tips which will save you time later. Also, please note that this free tool has some slightly obtrusive advertisements. So click carefully to avoid the ads.
When ready to start the simulation, click the blue FLY button. Notice the many options available at the bottom left. For example, you can click to change your aircraft, change your location, use the camera, and click options (to change many settings, including using the keyboard to control the simulation). There are also options to mute the sound, pause the flight, and see your speed. At the top center, you also have the opportunity to use AUTOPILOT.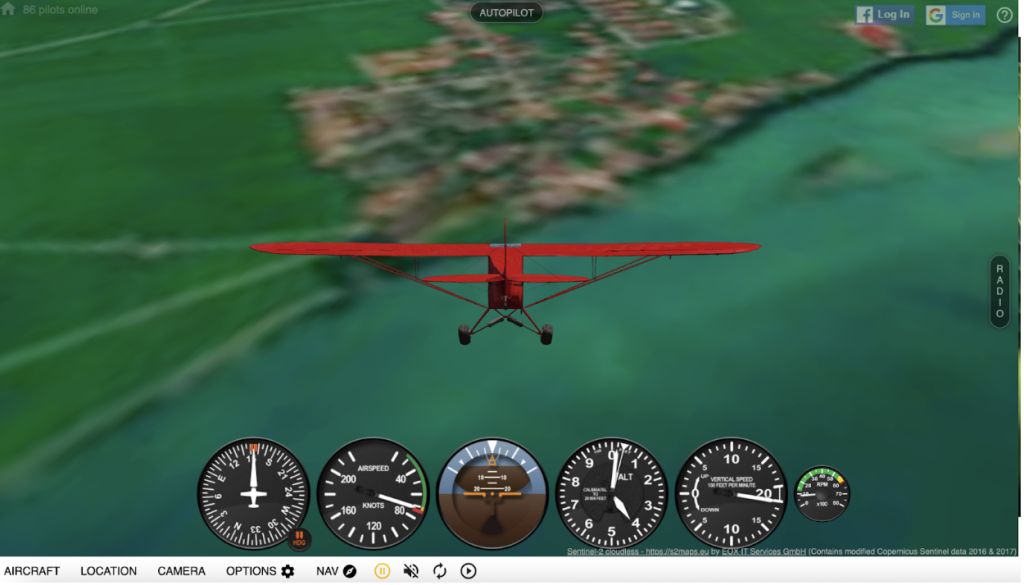 Clicking on AIRCRAFT allows you to change your plane into many options (even a hot air balloon). Then, click to change and continue your simulation.
The next option is to change the location. For example, this image shows an aircraft flying over the Grand Canyon. There are many other options, from the runway to Florence, Italy, and many other countries worldwide. See the entire list in the image below.
The Camera option enables virtual pilots to see various views, such as the view from the cockpit (as shown below).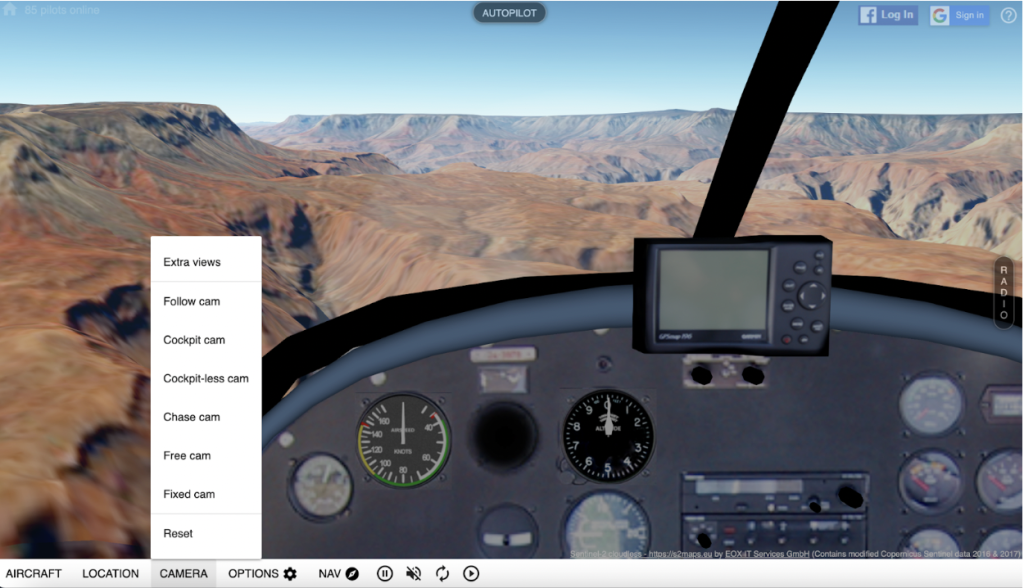 The Options button is where you go to decide if you want to use a joystick, mouse, or keyboard to control your aircraft. You can configure the options as you wish. Then, save and Close and begin your flight!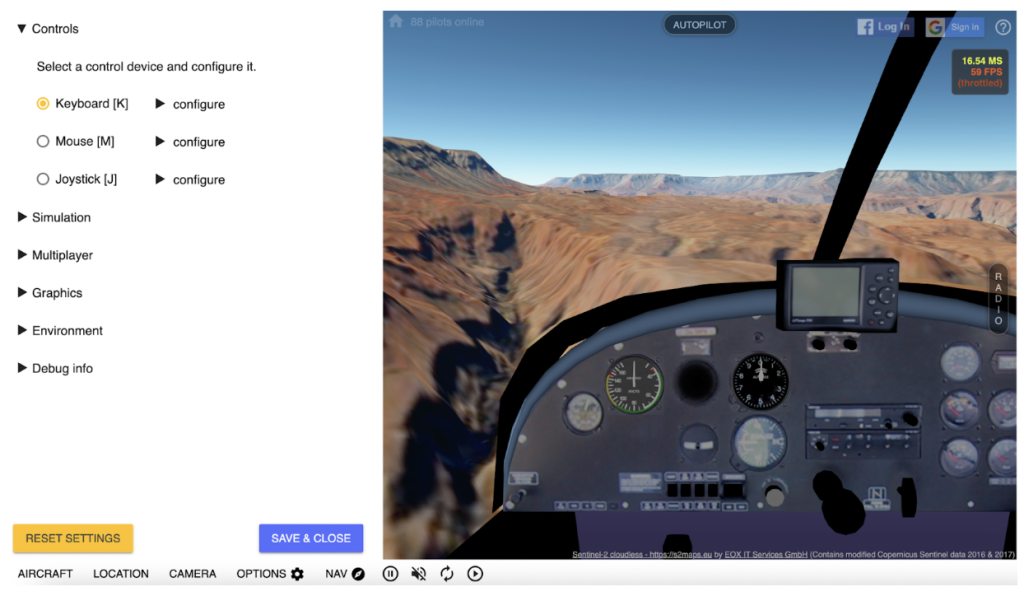 GeoFS Flight Simulator Lesson Ideas:
GeoFS flight simulator would work on an interactive whiteboard as a whole class experience or, better yet, on individual devices. This activity could be done in the classroom or as part of a blended, flipped, or remote learning lesson related to aviation. Below, we share several suggestions for using GeoFS in your lessons.
During STEM lessons, have students work on individual devices and use GeoFS. Set a countdown for your student engineers to take off!
Share locations from around the world with your students using this flight simulator. Have students travel to different places and share what they noticed about the area's landscape.
This site teaches basic aviation terms such as thrust, lift, gravity, and pull.
Add this tool as an option for STEM (or MakerSpace) learning center activities.
Challenge cooperative learning groups to try AUTOPILOT and see if flying with or without it is easier.
Have a class challenge to see which student can stay airborne the longest or travel at the highest speed.
Use the multiplayer option to have your students take flight together.
Compare the different camera views and the angle they project. Then, have students explain which camera provided the best view for a pilot.
Use this website to introduce your students to many types of aircraft. For example, how does an Airbus fly differently than a helicopter or a hot air balloon?
After trying out this site, have students summarize their experiences using this simulator. What surprised them? What was easy or challenging?

Additional Video Tutorials and Review:
Have you used GeoFS in the classroom? Please share your activities in the comments below!