"Men, their rights, and nothing more; women, their rights, and nothing less."

Susan B. Anthony
In the late 1700s, the United States introduced the right to vote—but only to white male landowners. The article "Voting Rights: A Short History" provides a general overview of changes in voting rights over the decades and centuries since that time. 
One of the most prominent figures in the fight for voting rights, especially for women, is Susan B. Anthony. Despite being convicted of illegally voting due to her gender in 1872, she refused to give up and remained an activist until her death. The 19th Amendment, which enacted the right for women to vote, passed fourteen years after she died. Learn more about Susan B. Anthony by listening to the podcast episode "Feminists: Susan B. Anthony" or sharing this Susan B. Anthony Sway lesson.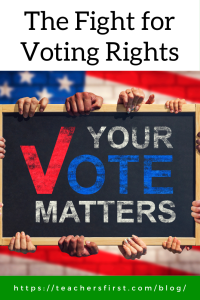 Susan B. Anthony's fight for voting freedom demonstrates the importance of the right to vote to the democratic process. It is the cornerstone of civic life and the core of being a United States citizen. Unfortunately, Americans do not always understand the importance of participating in this critical part of democracy, resulting in low participation in elections.
There are many lessons and activities that provide excellent opportunities for students to learn about the democratic process and their role as voting citizens. One well-known resource is iCivics (reviewed here). It's worth spending some time reviewing the timely resources they offer for the mid-term elections.
Begin your search by visiting the iCivics Voting Headquarters, which includes nonpartisan resources that guide students' understanding of local, state, and federal midterm elections. In addition, the featured activity helps students understand the power and importance of their votes. Here is what's available in the midterm voting headquarters:
Students Power Elections – This printable guide created by students for students provides step-by-step instructions for participating in the voting process, including registering to vote, understanding ballots, and voting. This guide is twenty-one pages long and includes many opportunities to research and reflect upon local voting issues.
Voting Matters Activity – Susan B. Anthony would be proud to see this set of activities that teaches young students about the importance of voters in maintaining a democracy. It also provides valuable background that prepares students to take their place in the voting process as they come of age.
Cast Your Vote Game – This is one of three games in the voting headquarters. Throughout this game, students learn about the voting process, the importance of researching candidates and issues, and how to identify issues that matter to them.
Election Lesson Plans – These ready-to-go lesson plans include standards-based lesson materials for middle and high school students. Many integrate with other technology resources that we'll discuss in more detail in the next section. 
Customizable Google Slide Decks – There's no need to create slide decks for lessons—iCivics has several available to customize. Subjects include voting, campaign finance, and political parties.
Election Infographics – These infographics provide essential statistics and information about many election-related topics and refer educators to lessons incorporating each graphic. Don't forget to look at the infographic featuring information on the Women's Suffrage Movement.
WebQuests – Share WebQuests with students to explore voting by mail, who represents them in congress, reapportionment and redistricting, and levels of state government and their intersection with the federal government. Students begin a WebQuest with the provided link, then follow the prompts to research and respond to the featured questions.
State and Local Governments Curriculum Units – This all-encompassing unit combines many resources into a middle and high school teaching unit. Lessons focus on federal government versus state government powers, the law-making process, and the representation provided by local government.
As mentioned earlier, one of the fantastic features of iCivics resources is their ability to integrate with other technology tools. These integrations make it easy to assign lessons and interact with features seamlessly.
Kami (reviewed here) – This tool makes lessons interactive and allows students to respond directly to assigned tasks. Use Kami's tools to add video, voice, or screen captures, draw, add text anywhere in a document, and much more. Learn more about integrating Kami with iCivics by watching this short introductory video.
Google Classroom – Assign games, WebQuests, and lessons in your Google Classroom. Students can also use their Google Classroom sign-in to access iCivics activities.
Nearpod (reviewed here) – Launch iCivics lessons using Nearpod in student-paced mode. After entering a code, students move through the lesson at their own pace, providing opportunities for differentiation, remote learning, and flipped or blended lessons. This video tutorial provides instruction on using Nearpod with iCivics lessons.
Kahoot (reviewed here) – The K! symbol found in many iCivics lessons signifies that the activity includes links to ready-to-play Kahoot quizzes.
It's more likely that students will become active voters if they're made aware of the importance of every citizen participating in the democratic process. The stories of Susan B. Anthony and others who fought for voting rights remind us that the right to vote cannot be taken for granted. 
What are some of your favorite activities related to the voting process? Do you have suggestions for learning about voting activists? Share your ideas below so we can learn together!