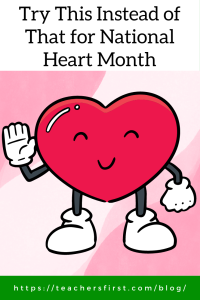 February is National Heart Month, a time to raise awareness about heart disease and ways to maintain a healthy heart lifestyle. Many of us celebrate Valentine's Day during February, a holiday that also focuses on the heart. Valentine's Day provides an excellent segway to teaching about the heart and circulatory system and an opportunity to integrate technology in your lessons.
Including technology in lessons enhances understanding and engages students in learning. Frameworks such as SAMR, TripleE, and TPACK are valuable tools for thinking about how and why to use technology to support classroom instruction, but it's also helpful to have examples of how to adapt current classroom content into enhanced lessons that use a technology tool.
Let's use National Heart Month as an example of how you can use technology to adapt current activities into more engaging and robust learning experiences.
Week 1: Instead of worksheets, create activities with Wordwall (reviewed here). Search the Community section for public templates and activities shared by teachers. Searching for "heart" yields several resources, including true/false activities, labeled diagrams, and a gameshow quiz. You can change any resource to a different template using the options on the right side of the page. Share these activities in Google Classroom, embed them on a web page, or share using the provided link.
Why it Works – Using an interactive tool like Wordwall allows students to engage with content in a variety of ways. Providing various learning options supports learners and enhances the likelihood that students will remain engaged for extended periods. In addition, activities such as those found on Wordwall are more visually interesting than those found on worksheets.
Week 2: Instead of passively watching videos, use Timelinely (reviewed here) or another video tool like Edpuzzle (reviewed here) to add interactive content such as comments, links, or quizzes. This example includes comments to help students focus on different portions of the video about the heart and circulatory system and has a link to a Google Form for students to complete when finished. Timelinely works with YouTube videos, making it easy to find age-appropriate content options. For younger students, use this Edpuzzle video about the heart as an example or template for a video lesson. This option works well with blended or flipped learning lessons—students can complete it during a computer center or at home.
Why it Works – Adding comments, links, and images to videos allows teachers to share focus points as students watch. Students don't just watch and absorb information, but also stop at highlighted areas in the video to review and reflect upon the information. Interactive videos for at-home learning enable students to watch the material at their convenience and to rewatch as often as necessary. Adding a form also ensures accountability for completing the assigned work.
Week 3: Instead of using a Google Slides or PowerPoint presentation, use Pear Deck (reviewed here) to add interactive content and formative assessments to your slides. Start by importing your current Google Slides presentation into Pear Deck, or use one of the included templates to create your presentation. This template is about diagraming cells and provides a starting point so you can modify the content and present your heart and circulatory system lessons.
Why it Works – Student engagement is much higher when the material presented is more than direct instruction from the teacher. Adding Venn Diagrams, areas for discussion, and student drawings, invites students to participate in the lesson instead of just watching it.
Week 4: Instead of assigning a report or having an end-of-unit test, offer students the ability to choose how they share their learning. Examples include making an explainer video using simpleshow video maker (reviewed here), creating infographics with Canva Infographic Maker (reviewed here), or sharing a presentation created with Microsoft Sway (reviewed here). Podcasting is another excellent option. Have students use an easy podcasting tool such as Buzzsprout (reviewed here) to share information about heart anatomy and healthy living tips.
Why it Works – Students have different interests and different ways they like to share information. Offering a variety of tools gives students a choice and ownership in the final project. Another advantage is that grading becomes easier and more enjoyable, as you'll see your students' creativity! To ensure that students understand what to include in their projects, use tools from Rubrics to the Rescue—one of our self-paced Professional Learning Units—to create and share a rubric with students before they begin their final project.
Additional websites and activities to include with your resources for National Hearth Month have been curated in the Wakelet below.
Using technology effectively offers many advantages for both students and educators. Finding the right tool to meet your learning objectives and using the resource effectively takes a little time but is well worth the effort.
Have you modified an existing activity to one infused with technology? We would love to hear your ideas and perspectives in the comments!