In the 1930s, swing jazz emerged as a dominant form of music in the United States. The upbeat tempo of this music provided temporary relief from problems plaguing the country and the world—music and dance halls filled with people dancing to the big band sound.
On January 16, 1938, Bennie Goodman performed the first jazz concert at Carnegie Hall—the first swing music performance held in a music hall versus the dance club performances typical of jazz. It was also one of the first significant performances featuring a racially integrated band.
Integrating music and culture helps students gain a deeper understanding of historical events and better understand the context surrounding specific events. One method for providing historical context through music is taking advantage of a strategy known as thinking routines. Developed by Project Zero (a research center at the Harvard Graduate School of Education) and based upon several research projects, the thinking routines provide scaffolds to deepen thinking and visual representations of the thinking process.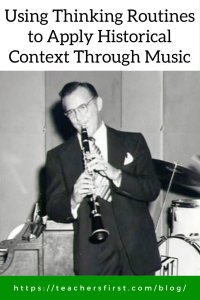 There are several categories of resources on the Project Zero website. Each category contains routines developed to enhance different ways of thinking, such as Global Thinking or Exploring Art, Images, and Objects. While visiting the site, use the search tools to find routines by teaching subject, thinking disposition or competence, or by featured project. Select any routine to view a PDF document that provides the routine's purpose, application, and how to launch it, as well as questions to include. Thinking routines are available in both English and Spanish.
With Bennie Goodman's performance in mind, below are some ways to use thinking routines to provide greater context and understanding of this event's significance and help students develop a broader view of life during this time. (Note: categories are listed in bold and routines in italics.) 
Introducing and Exploring Ideas | Creative Question Starts
Use this routine as a brainstorming activity for students to share what they know about jazz and the 1930s. This routine also helps students focus on the information they need to learn to provide a greater perspective of national and global events during this time. Students will also begin to make connections to other historical events, such as the buildup toward World War 2.
Perspective-taking | Stories
This routine helps users think through more complex issues and topics. For example, use this routine to help students think through the story of this first jazz concert at Carnegie Hall and the untold story of why this event became an important landmark of the time.
Considering Controversies, Dilemmas, and Perspective | Think, Pair, Share
Students use this routine to share ideas with others and consider perspectives other than their own. For example, pose questions such as, "Why was it significant to the Black community to have an interracial band playing at Carnegie Hall?" or "What other significant events took place around the world in 1938?"
Generating Possibilities and Analogies | 3-2-1 Bridge
This routine invites students to develop a bridge or connection from their initial thinking to newly learned information. The directions in this routine state that it works well with learning experiences where students have prior knowledge. Use this to connect students' previous understanding of events during the 1930s to their learning after, using music, literature, and historical context to provide more extensive connections. Another option is to compare events, popular music, and the role of music in society during the 1930s to those of earlier periods and examine the connections made to historical events.
Synthesizing and Organizing Ideas | Headlines
This routine provides a summary and reflection of students learning and is a great way to end a class period. The students write a headline that captures the essential aspect of a problem or topic, then discuss how their headline differs from what they thought the previous day.
These are just a few of the many thinking routines available through Project Zero. To learn more about the concept and background behind thinking routines, click Tips and Tricks for Using Thinking Routines Effectively in the first paragraph of the home page. You can also watch this short video from Project Zero that introduces thinking routines.
You can use thinking routines to help your students develop a deeper understanding of a variety of historical and cultural events. Other ideas include researching The Beatles' music as it relates to events during the 1960s, analyzing Vincent van Gogh's art that was created in the same period as the publication of The Adventures of Huckleberry Finn, or discovering the role of battlefield musicians that accompanied Civil War soldiers.
Have you used music to provide the historical context within lessons? Perhaps you use thinking routines to develop and enhance students' thinking processes. Share your thoughts and ideas in the comments section!