World Poetry Day is held every year on March 21. World Poetry Day was adopted by UNESCO in 1999 "to support linguistic diversity through poetic expression and increase the opportunity for endangered languages to be heard." It is a day for people worldwide to appreciate poetry from around the world and bring people together around that common appreciation!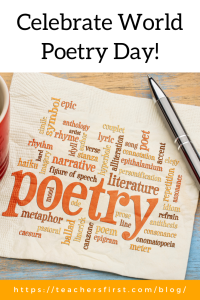 World Poetry Day is an opportunity to bring diversity and poetry into your classroom. There are World Poetry Day-specific resources, lesson plans, and activities available for all age groups. Celebrating World Poetry Day with students should be fun and educational! Younger students will be engaged by funny poems like those by Shel Silverstein and young poets like themselves. Engage older students with poetry slams! Middle-grade students can benefit from a wide variety of approaches.
Celebrating world poetry can be done in any subject! Start your class by reading from a diverse poetry book or a diverse poem. Try out a poetry game or fun activity. Use coding to bring poetry into your computer science classroom. Teach your high schoolers to annotate using poetry. Have fun with magnetic poetry online! Incorporate art, theatre, or music with black-out poetry, songs as poetry, or poetry slams. Celebrate Robert Frost's birthday (March 26) with a poetry lesson. Poetry lessons can be incorporated in many different ways!
Celebrate World Poetry Day in your classroom on March 21. TeachersFirst has many resources and blog posts to help you find just the right activity or lesson for your classroom. Poetry is a universal language that you can bring to your students on World Poetry Day!