Invention is a process: you don't get there overnight

Louis Foreman
May is National Inventors Month, an excellent time to introduce your students to inventions and inventors and to discuss their character traits found, including perseverance, curiosity, and problem solving.
Celebrating the spirit of inventors and the invention process is an engaging way for students to learn that everyone is capable of becoming an inventor. Here are some ideas sure to inspire creativity in all students.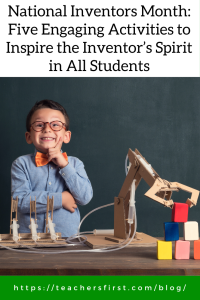 Celebrating National Inventors Month is an opportunity to discover the fascinating stories behind the many revolutionary creations around us and how they transform our daily lives. Above all, it inspires students to recognize the power of perseverance, curiosity, and problem-solving, proving that anything is possible with these traits.
Do you have suggestions for introducing inventors and inventions into the classroom? Share your ideas below so we can learn together.