The American Library Association recently announced the 2021 winners of the youth media award. In addition, many other book awards for K-12 books were recently announced. Award-winning books are always an excellent addition to school libraries and classrooms! It's like having a ready-made, vetted buying list.
Every year, the American Library Association honors outstanding books, videos, and other materials for children and teens. They are selected by committees comprised of librarians and other media experts to encourage original and creative work in the field of children's and young adult literature and media. You can view the entire 2021 presentation here, where a total of 20 different awards were announced. In addition, the American Association for the Advancement of Science/ Suburu prize for excellence in science books, the National Science Teaching Association's Best STEM Books, and the We​ ​Need​ ​Diverse​ ​Books awards list were all announced.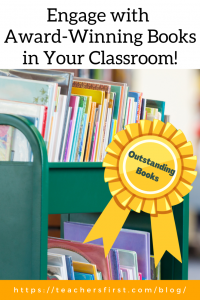 Teaching with award-winning books is a win-win for teachers and students alike! School librarians are an excellent resource in bringing award-winning books into your classroom. From library displays to resource lists to book talks, they should be your first go-to resource. There are also various general lesson plans available, including specialized lesson plans based upon specific awards. If you would like to build your own lesson plans, start by building your own targeted book list from a database of award-winning books or by watching informative, engaging videos like these about the Caldecott & Newbery or Coretta Scott King & Theodor Geisel book awards. 
Other great ways to bring award-winning books into your school and classrooms are school-wide book battles, school book awards, classroom book awards, book clubs, and mock book awards! Book battles can take any form you design. The most popular are America's Battle of the Books and the School Library Journal book battle. Classroom book awards can be lots of fun without requiring a large amount of planning and implementation work. Book clubs are an engaging activity for any classroom or school library and can be based upon any award category or award-winning book. Mock book awards are popular and can be implemented based on criteria from different awards like the Caldecott, Newbery, and the Theodore Geisel awards. However you choose to bring award-winning books into your classroom, you will be glad you did! As always, check out the TeachersFirst resources and the TeachersFirst blog for more ideas. Happy reading!