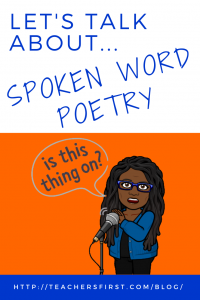 TeachersFirst®️ hosts a book study at least twice a year – a deep dive into integrating technology in the classroom. We are currently studying Michelle Eaton's The Perfect Blend and discussing how to create blended learning experiences while teaching remotely. This week, we've discussed several roadblocks – student motivation, simulating different spaces, and lesson organization. A number of us have shared a "classroom of our dreams" or a sample instructional plan. I thought I might share one as well.
I'm drawing inspiration for the lesson from The National African American Read-In, which was officially celebrated on February 7th but has events scheduled throughout the month. I'm not currently coaching a specific teacher, so keeping with the "classroom of my dreams", I decided to plan a middle school instructional set focused on spoken word poetry featuring African American poets. The plan has flexibility built in for accommodating some form of remote learning – fully remote, HyFlex, or some other combination and is based on the 3D's Inquiry Station Rotation model. I would deliver most of the lesson using a Wakelet as the instructional hub.
Discuss (Large Group): Using an inquiry approach to studying poetry, students would watch spoken word performances and generate questions about the genre. After watching a few short pieces like those in If You Give a Child a Word students would read the text of the poems and then refine their questions about the components of spoken word poetry. Instruction would conclude by generating questions to research about spoken word poetry in general.
Discover: Working through a playlist of videos and articles about spoken word poetry in pairs would allow students to learn more about the genre. To structure their inquiry work, students will use the Cyber Sandwich Eduprotocol, which works like a digital think-pair-share. The list would include Sarah Kay's explanation of spoken word poetry, Pages Matam's TEDx Talk, Asia Greene's TEDx Talk, and Brandon Leake's Pookie.  
Discuss (Small Group): Students use accountable talk stems as a safe way to present potentially conflicting ideas during this teacher-moderated discussion. Students would review poetic devices identified throughout their exploration, along with sharing what they have learned about spoken word poetry. Students would then learn about commemorative poetry with Amanda Gorman's The Hill We Climb and Jae Nichelle's Nine Faces.
Demonstrate: To demonstrate what they learned, students would have a choice: write and perform a spoken word poem on the class Flipgrid (reviewed here), create a topical spoken word playlist with annotations using Wakelet (reviewed here), or create a Sway (reviewed here) to present research on a topic related to spoken word poetry.  
Do you have a lesson concept that you have adapted for blended learning or poetry? Share your ideas in the comments below.