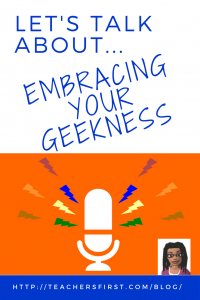 July 13th is "Embrace your Geekness" day.  I just found out, and I'm very excited! If you were called a "geek"  in the late 20th century, it meant that you were smart and tech-savvy. Today if you are a "geek" it means that you are an expert or well-informed enthusiast of almost any distinct social group.  I am going to celebrate twice because each of those definitions applies to me.
Teaching geeks will do almost anything to make their students successful.  They collect different teaching strategies so that they can use them to reach students who don't respond to typical instructional sequences. Teaching geeks like to talk about these strategies and are constantly trying to learn new ones.  You find these teachers in Twitter chats in the evening, or at Edcamps on Saturdays. They spend lots of time trying to find better ways to engage their students, understand the synergy of teaching and learning, or just talk with others who share the same passion.  
Last month, Karen discussed a quote from David Guerin. As both a tech geek and a teaching geek, I totally agree. Schools need teaching geeks.  They bring a palpable enthusiasm into the classroom. Oftentimes their superpower can change lives – not only for their students but their peers as well.  Keeping that level of drive powered up can take a toll on even the best teacher geek. Here are a few ways to get recharged and embrace your geekness as you celebrate on July 13th.
What other ways have you found to recharge?  Share in the comments below.