May is Get Caught Reading Month! Started in 1999 by the Association of American Publishers, Get Caught Reading Month is an annual celebration to promote reading. The observance is championed by Every Child A Reader, a literacy nonprofit, and kicked off by Children's Book Week, which will be celebrated twice this year: May 4–10 will focus on connecting with text online given the current health crisis and social distancing guidelines, while face-to-face events are planned for November 9–15.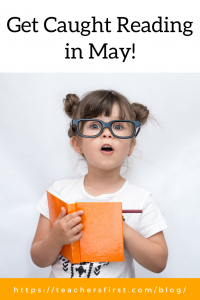 Ideas abound for celebrating Get Caught Reading Month:
Many sites are also offering unique opportunities for students to interact and engage with books and reading, including TeachersFirst! Take your students on one of our Reading Treks to help them connect literature to the world around them. Students can create book reviews, explore the world of literature with videos on KidLit TV, listen to podcasts about books from librarians, and listen to stories on Audible! Use Flipgrid to celebrate reading in your classroom or learn from home with Milikin's book talks. Engage your students with information and activities about books, whether they are in elementary school, middle school, or high school. Just for fun, bring Hogwarts home to your students, have fun with Captain Underpants and The Adventures of Dog Man author Dav Pilkey, get creative with author and illustrator Jarrett Lerner, or watch authors read their books aloud!  
Let's make reading engaging and fun to encourage more of our students to Get Caught Reading in May! As always, TeachersFirst offers a curated list of reviewed reading strategies and awesome tools to get you started. Take a look at our reading blog posts for more ideas. Remember to Get Caught Reading yourself! Share your ideas for encouraging students to read in the comments below!