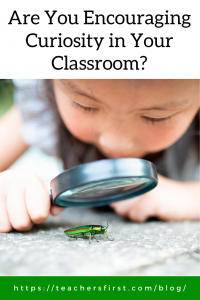 Children are curious by nature. How many times have you heard parents comment on the number of questions asked daily by two- and three-year-olds? Why is the sky blue? Why do I have to go to bed? That's how young children learn about the world around them.
As children grow past the toddler stage, it seems sometimes that their curious nature goes away. Perhaps it is because they are more aware of their surroundings, or maybe it because they sense that adults become frustrated with constant questions or don't have all of the answers.
Whatever the reason, students don't always have a sense of curiosity as it relates to lessons learned in the classroom, and that is disappointing. We know that curiosity leads to discovery and motivates learning, so it is essential to consider how to thoughtfully encourage curiosity in our students. TeachersFirst ® is conducting an OK2Ask®️ workshop on this topic, "TeachersFirst Exclusives that Spark Curiosity in the Classroom,"this month. You can find session details and enrollment information here or watch the archived recording when it's posted.
How can I define curiosity?
This article from TeachThought discusses ideas about understanding and developing curiosity in students. It takes readers through the four stages of curiosity, beginning with procedural knowledge and leading to self knowledge. Let's take a look at each of those stages:
Process – This is the beginning stage of learning. At this point, the students' focus is on the actual task and they aren't focused on (or aware of) the learning objectives. Students just want to know what to do and how to complete the task without taking any ownership of the learning process.

Support students in this stage by providing clear instructions and using different methods to create learning opportunities that encourage and motivate students in the learning process.

Content – This next stage of learning builds upon the process, and students begin to move toward wanting to learn more. They may ask questions beyond the process of completing the task that help them understand the content more thoroughly. It is one of the first steps toward independent learning.

Support students in this stage by providing learning materials with interesting content, including teaching materials that support the abilities of each student, and beginning to move students away from consuming content and toward content creation.

Transfer – This stage is a transformational point in learning where students begin to apply their current knowledge to new information. To develop curiosity, they need opportunities for more independent learning rather than structured learning.

Support students at this stage by providing independent learning opportunities like research projects, makerspace activities, or group activities. Support student success in these independent activities by providing a well-defined rubric, encouraging collaboration, and using questioning techniques that help students focus on the learning.

Self – The final stage of curiosity is the awareness of self. Upon the presentation of new materials, the learner thinks inwardly about how it applies to themselves. They independently think about ways that the information integrates with their current knowledge.

Support students at this stage by giving them opportunities to create. Although students still need rubrics and independent learning support, as an inward thinker, they are ready to create and share their learning with others. Use digital creation tools such as presentation software, movie creation tools, digital books, or coding activities to encourage students to share knowledge in creative ways.
What are some TeachersFirst resources I can use to encourage curiosity?
Suggestions for deliberately encouraging curiosity
Model curiosity and asking questions. Use strategies like asking, "What questions do you have?" instead of "Does anyone have any questions?"
Allow student choice whenever possible.
Reward and highlight student curiosity.
Teach students how to ask productive questions.
Incorporate inquiry-based lessons.
Allow students to fail – then teach how to reflect upon that failure.
Encourage active listening.
One final thought: more than anything else, always reflect upon your practices to make sure you aren't killing curiosity by enforcing rigid procedures or restricting creativity. Take the time to encourage curiosity and independent thinking and see where it leads – to students who become better problem solvers and critical thinkers, two of the most important 20th-century learning skills necessary for present and future careers.
Do you have ideas on how to encourage curiosity? What has worked in your classroom? Share your thoughts with our readers in the comments below.