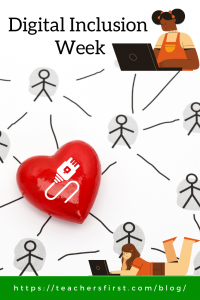 October 5 through 9 is Digital Inclusion Week. The goal of this international event is to raise awareness and find solutions to support those lacking home internet access and devices and to bring attention to local technology training and support programs. The creators of Digital Inclusion Week encourage supporters to share ideas and plans that build awareness of digital access disparities in their communities.
Many of us take internet access and the availability of digital devices for granted, but some are not as fortunate. An April 2019 Pew Research Center report indicates that approximately 10% of Americans don't use the internet, which amounts to nearly 33 million people. The numbers are higher in rural America – almost 15% of homes are offline compared to only 6% in suburban areas.
The implementation of remote learning due to the coronavirus has brought digital inequities to the education community's forefront. Students and teachers struggle with bridging the digital divide in several ways, but one of the biggest problems is internet access.
Lack of home Wi-Fi (or insufficient bandwidth) places students in a position of not being able to complete or submit classwork. Do you remember this viral photograph of two girls sitting outside of a Taco Bell so that they could access the internet and complete their assignments? That photograph raised awareness of the difficult situation some students face as they try to complete remote learning lessons. Other issues include lack of devices, students having to share computers at home, and the need for parental support with remote learning lessons.
Digital Inclusion Week serves as a reminder to look at digital equity through various lenses, especially by thinking of ways that we can be supportive to students. Here are some ideas offered in TeachersFirst blog posts that discuss digital equity and provide suggestions that work across high-tech, low-tech, and no-tech situations:
Digital Inclusion Week is an excellent time to evaluate the needs of your students. Do they all have adequate access to the internet and computers? What additional supports do you need? What about the bigger picture in your community – is there a way for you or your school to help bridge the digital divide? Bringing awareness to digital inclusion issues is a first step toward finding and implementing solutions.
How are you supporting the goals of Digital Inclusion Week? Share your ideas in the comments below and on Twitter using the hashtags #DIW2020 and #digitalequityNOW.